News
University of Sussex launches new online Masters in Quantum Technology Applications and Management
By: Alice Ingall
Last updated: Tuesday, 17 January 2023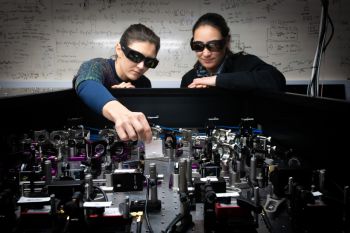 The University of Sussex has launched a new online Masters in Quantum Technology Applications and Management (MSc). The MSc – the first of its kind in the UK – is the latest addition to the suite of online qualifications offered by the University of Sussex.
The unique MSc combines scientific theory with practical business skills, drawing on expertise from world-leading academics at the School of Mathematical and Physical Sciences, which is ranked in the top 20 for student satisfaction in Physics and Astronomy in the UK (Complete University Guide, 2023). It encompasses expertise from the University of Sussex Business School which is ranked in the top 15 in the UK for Business and Economics (Times Higher Education World University Ranking, 2023).
The course is aimed at professionals who are looking to: advance their scientific knowledge to conduct research at small or large organisations; commercialise quantum technologies and set up or manage a quantum division within their company; or to develop their quantum literacy to more effectively support colleagues in quantum-focused roles.
The MSc consists of an innovative curriculum focusing on scientific applications and how they are relevant to the real world. It consists of an innovative curriculum allowing students to dive into the science underpinning quantum physics and to explore the commercialisation of new quantum technologies. Students will explore quantum networks and secure communications, materials for nanotechnologies, and atom-light interactions and photonics. And as they will benefit from links with the Sussex Centre for Quantum Technologies and the Institute of Physics, students will be part of a global community at the forefront of quantum technology advances.
With input from the University of Sussex Business School, students will learn the importance of commercialising new quantum technologies to drive success and innovation in business. They will explore the interplay between market pull and technology push and learn: innovation management techniques within an economic and social context; how to foster strong relationships with stakeholders; and how to ensure their innovations are commercially successful and socially responsible.
Dr Fedja Orucevic, course director and senior lecturer in the School of Mathematical and Physical Sciences at the University of Sussex, said:
"We will teach students the pillars of quantum technology, giving them the knowledge and confidence to discuss principles of quantum physics, and to advance their overall quantum literacy and awareness. Students will also gain invaluable technical skills, and during the course they will use Python programming language, employ microcontrollers, and exploit 3D Computer-Aided Design. All of this is designed to help them stand out to employers and to boost their career prospects.
"This course is unique in that, alongside theoretical knowledge, students will develop practical business-focused skills, and they will graduate ready to commercialise new quantum technologies and drive innovation in this exciting emerging sector. In this respect, students will benefit from the expertise of our esteemed colleagues at the University of Sussex Business School and the School of Engineering and Informatics.
"I am looking forward to collaborating with the next generation of professionals who appreciate the incredible potential presented by new quantum technologies, and I am thrilled to be able to bring my own research and insights into the classroom."
The Quantum Technology Applications and Management Masters is taught entirely online. Students will have the opportunity to connect with a global network of like-minded professionals who understand the endless possibilities of quantum technology. With six start dates through the academic year, students can balance their studies with their existing work and life commitments.
Applications for the next intake, starting in May 2023, are now open. Visit the Quantum Technology Applications and Management course page to find out more.