Sussex Medical Robotics team successfully performed a live demonstration of their custom-built Neuro-surgical robot
Posted on behalf of: Department of Engineering and Design
Last updated: Friday, 2 July 2021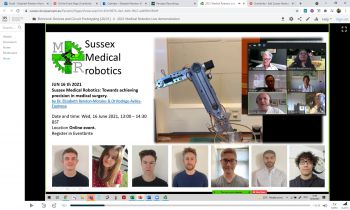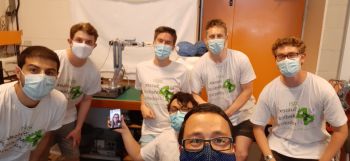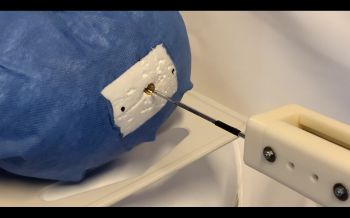 A group of seven undergraduate and postgraduate students from the School of Engineering and Informatics have been learning how to design, build and test a robotic system to perform precision surgery as part of the Sussex Medical Robotics project. The chosen application for the robotic arm this year was Deep Brain Stimulation or DBS surgery.
The MEng group final project offers students a learning experience with an industry-style multidisciplinary approach, together with a practical hands-on experience on the design and development of a full robotic system to be tested in a simulated surgical environment.
The interdisciplinary project brings together students from mechanical and electronic engineering degrees to develop a robotic system for applications in medical surgery. The team members work together to develop multidisciplinary skills in key areas such as: mechanical design, embedded hardware and software development, microcontroller/FPGA testing, control and kinematics systems and machine vision. All these areas integrated to perform precision intraoperative procedures using robots.
The robotic system for surgical applications was demonstrated in our 2021 Sussex Medical Robotics annual event which took place on the 16th June at the Sussex Robotics Laboratory via Zoom. In this event, students, their parents, industrial partners, and staff joined to celebrate this year team's achievements. The team shared their journey, experiences and performed a live robotic demonstration to test the robotic system in a simulated surgical environment. Despite COVID limitations, attendees enjoyed the virtual event and saw the live surgical demonstration.
Professor Kelly Coate, Pro Vice Chancellor for Education and Students was officially opening the session said " I think, projects like this are impressive and ambitious as it takes students an amazing amount of teamwork, high level of knowledge and expertise, technical skills and commitment. I am delighted to see how students came together and engaged in a project like this to make it a success despite the current circumstances."
Project supervisor Dr. Rodrigo Aviles-Espinosa said "One important aspect of teaching is that we as academics, would like to inspire our students through research-led projects. This project has allowed students to apply the knowledge obtained though their degree into a multidisciplinary research-led project. Well done!".
Project supervisor Dr. Elizabeth-Rendon-Morales said "We are excited to share with their parents and our community the amazing work that has been done by our students at Sussex Engineering. During the live demonstration the students showed their teamwork and technical skills applied to tackle a problem requiring the different areas of expertise to solve a real-world challenge. Many Congratulations!
Sussex Medical Robotics is a MEng/Y3 student team at the University of Sussex. Students working on a robotic arm to achieve precision in medical surgery.
Further information: https://www.sussex.ac.uk/research/centres/robotics-and-mechatronic-systems/research/elizebeth