Quantitative FinTech (QFIN)
The Quantitative FinTech (QFIN) research group at Sussex provides independent, customized and responsible solutions to promote innovation in financial markets. Our flexible approach resolves problems ranging from small boutique model development to advice on implementing complex financial systems.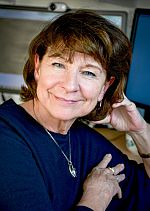 I started working closely with financial institutions in the 1990s. Since then I have been an industry leader in risk and investment management and, most recently, in crypto assets and blockchains.
Over the course of my career, trends have changed in line with the need for better global risk-management standards and improved risk-return profiles in financial markets. As new financial applications of sophisticated mathematical models develop in a high-tech global environment, I see great potential for academics and practitioners to collaborate to advance research and product development that can benefit society in a sustainable manner.
In the QFIN research group academics collaborate across the three most important areas of research: Quantitative Finance, FinTech and Climate Finance. We have a long history of consultancy partnerships with the industry, including investment banks, asset managers, hedge funds, energy companies and exchanges.
We benefit enormously from bi-directional knowledge transfer and always seeks to ensure that our research has direct relevance to important problems in global financial markets. Please contact us if you wish to discuss the potential for collaboration on new projects.
Professor Carol Alexander - Professor of Finance
News and Events
On 2nd September, Professor Carol Alexander will give a talk on blockchain and Fintech at the TieCon 2020 virtual conference.
Market Analysis Report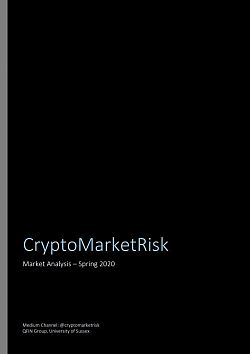 A selection of articles writing in Spring 2020 from the Medium account for the CryptoMarketRisk team in the QFIN research group at the University of Sussex Business School has been produced.
Read the CryptoMarketRisk Market Analysis
Posters in Parliament, 11 March, 2020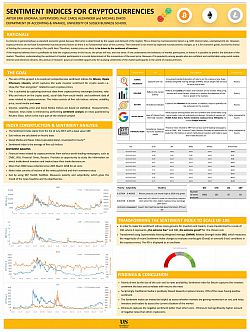 Third-year BSc Finance student Artur Lindmaa presented his research at the Posters in Parliament event in the Houses of Parliament. The aim of this competition is to allow legislators and policymakers direct insight to some of the innovative research undertaken by undergraduate students around the country. The highlight of Artur's day was discussing his own research and the broader scope of our work in QFIN with Members of Parliament. Artur says: "Learning about the wide variety of routes for young scholars to engage with parliament and its committees was quite an eye-opener. And the conference gave me plenty of new ideas to expand my research as I write my final-year dissertation."
CryptoCompare Digital Asset Summit 10 March, 2020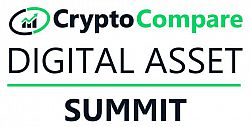 Given the Coronavirus, Carol Alexander drove to this event in Magazine (next to the O2 dome) with a team of Crypto Quants (Michael Dakos, Daniel Heck, Arben Imeraj and Artur Lindmaa). She moderated the panel entitled The Role of Digital Asset Derivatives and Sophisticated Financial Instruments on the main stage with C-Suite representation from crypto derivatives exchanges Deribit, OKEx and FTX. After this she presented her research (with Daniel Heck) on High-Frequency Price Leadership on Bitcoin Spot and Derivatives Exchanges.
Westminster Business Forum on FinTech in the UK, 2 April

The forum will take place online and the discussion will focus on:
How regulation is responding to new innovative financial products, platforms, and models; and
Priorities for the growth of the FinTech sector and the direction of policy for the new government.
QuantMinds International, Hamburg, 2 – 6 November, 2020 [COVID-19 Conditional Date]

Microstructure & information flows between crypto asset spot and derivative markets
Which crypto instrument on which exchange is the first to incorporate new information?

Where are the most informed traders located?

How long do traders on other platforms have to profit from the leaders reaction to news?

Who is already trading variance swaps on bitcoin and how are they priced?

How are CME options faring compared with volume on the unregulated crypto exchanges?
Recent Research
Alexander, Carol, Choi, Jaehyuk, Massie, Hamish R A and Sohn, Sungbin (2020) Price discovery and microstructure in ether spot and derivative markets. International Review of Financial Analysis. ISSN 1057-5219 (Accepted)
Alexander, Carol, Lazar, Emese and Stanescu, Silvia (2020) Analytic moments for GJR-GARCH (1,1) processes. International Journal of Forecasting. ISSN 0169-2070 (Accepted)
Alexander, Carol, Choi, Jaehjuk, Park, Heungji and Sohn, Sungbin (2020) BitMEX Bitcoin derivatives: price discovery, informational efficiency and hedging effectiveness. Journal of Futures Markets, 40 (1). pp. 23-43. ISSN 0270-7314
Alexander C. and M. Dakos (2020) 'A Critical Investigation of Cryptocurrency Data and Analysis' Quantitative Finance. 20:2, 173-188, ISSN 1469-7688
Alexander, Carol and Rauch, Johannes (2020) A general property for time aggregation. European Journal of Operational Research. ISSN 0377-2217
Calmet, Xavier and Shaw, Nathaniel Wiesendanger (2020) An analytical perturbative solution to the Merton Garman model using symmetries. Journal of Futures Markets, 40 (1). pp. 3-22. ISSN 0270-7314
Meng, Xiaochun and Taylor, James W (2019) Estimating value-at-risk and expected shortfall using the intraday low and range data. European Journal of Operational Research, 280 (1). pp. 191-202. ISSN 0377-2217
Tzouvanas, Panagiotis, Kizys, Renatas, Chatziantoniou, Ioannis and Sagitova, Roza (2020) Environmental disclosure and idiosyncratic risk in the European manufacturing sector. Energy Economics. ISSN 0140-9883 (Accepted)
Student's Videos
Our students are encouraged to learn through state-of-the-art media including cutting-edge assessment modes that equip them with transferrable skills that enhance employability. See the teaching page for more examples of undergraduate and postgraduate's work.
You might also be interested in: