Partnership with Lund
A long-term partnership exists between the Middle East and North Africa Centre at Sussex (MENACS) and the highly-regarded and internationally recognised Center for Middle Eastern Studies (CMES) at Lund University in Sweden.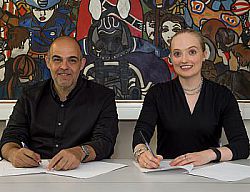 CMES Research and Funding Officer, Spyros Sofos, and former Director of MENACS, Dr Hilary Kalmbach
Collaboration between our two centres started in late 2015, and was the outcome of a long and dynamic process of exchange and careful planning over multiple visits. The two centres have similar research interests and complementary strengths in terms of research expertise, teaching, and engagement.
Activities of the partnership include joint research programmes and teaching collaborations. Collaboration includes a programme of network meetings, international conferences, publication-driven workshops, and policy paper presentations, held at Sussex, Lund, and third-party locations, including in the MENA region. We also plan to exchange faculty, staff, and students in ways that enhance research and research-led teaching at each centre.
Supported by the International Partnerships and Networks Fund, the partnership was the outcome of a long process of exchange and careful planning over multiple visits.
When the partnership was signed in 2016, the then Director of MENACS, Dr Hilary Kalmbach, said: "We're excited to be deepening our relationship with the top centre for the study of the Middle East in Scandinavia. We each have a core focus on Arabic-speaking countries and their diasporas, and particular interest in the study of Islam, water, migration, and nationalism.
"Beyond this, we bring complementary strengths to the table. For instance, CMES has significant expertise studying Muslims in Europe while MENACS has a geographic scope that is unusually wide and inclusive, stretching from North Africa to Afghanistan, and Turkey to the Indian Ocean.
"Both centres are committed to using art and culture to broaden perceptions and enable dialogue within our universities and beyond. It's a connection with significant potential that we look forward to developing over the coming years."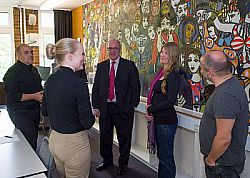 L-R: Spyros Sofos, Dr Hilary Kalmbach, Professor Michael Davies, Kristina Robertsson (CMES Director of Studies and International Engagement), and Professor Umut Özkirimli (Professor leading the Nation and State project)
The aim of the strategic research partnership is to have a transformative impact on the study of the MENA (Middle East and North Africa) region through research, teaching, and international engagement, addressing topics of contemporary relevance.
The inaugural research initiative of this partnership, Nation and State in the Middle East and North Africa, was motivated by the need to address the tectonic changes that have shaken the region since the onset of Arab Uprisings in 2011.
The partnership advances the centres' goal of being at the forefront of training the next generation of MENA experts. We also hope that the collaboration will be a model for enhancing cooperation between the two universities as a whole.