With seed funding from the University's International Partnership Development Fund, Sussex researchers have established strategic alliances and networks with leading international partners for cutting-edge research that addresses global questions and supports inter-disciplinary collaboration.
Sussex-Mahidol Migration Partnership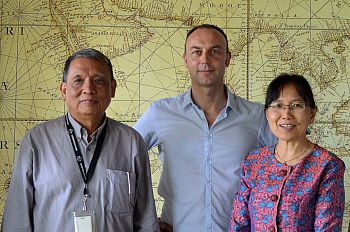 A partnership between the Sussex Centre for Migration Research (SCMR), the Mahidol Institute for Population and Social Research (IPSR) and the Mahidol Migration Centre, the Sussex-Mahidol Migration Partnership has established a framework for collaborative research on migration between Europe and South East Asia with a focus on retirement, marriage and cultural interaction between Thais and Westerners. In 2016, the SMMP received its first collaborative research award from the British Academy Newton Fellowship to research Thai-Westerner relationships, entitled 'The Search for a Better Life: How partnerships with Westerners shape Thai life chances, social relationships and development.' Other initiatives include joint international conferences and workshops, collaborative teaching programmes, researcher and student exchanges, and the development of a broader regional network (below).
Europe-Asia Migration Network
The Europe-Asia Migration Network is the first forum of its kind between leading migration research centres in the two regions that aims to develop research collaborations and exchanges in order to address important global challenges and issues that result from migration, mobility and cultural interactions between Europe and Asia. Partner institutions include the Sussex Centre for Migration Research (SCMR), the Asia Research Institute at National University of Singapore, the Berlin Institute for Integration and Migration Research at Humboldt University, the Institute for Population and Social Research at Mahidol University and the Peace Research Institute Oslo.
Sussex-Lund Partnership in Middle Eastern and North African Studies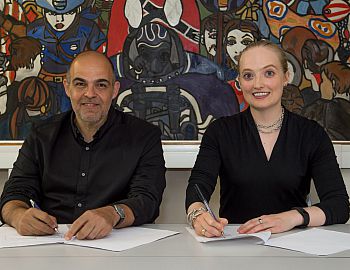 A partnership and research programme between the Middle East and North Africa Centre at Sussex and the Center for Middle Eastern Studies at Lund University in Sweden, with the aims of having a transformative impact on the study of the Middle East and North Africa region through research, teaching, and international engagement, addressing topics of contemporary relevance. The partnership will initially focus on Nation and State in the Middle East and will also include collaboration with the Middle East Centre at the London School of Economics and the College of Arts and Sciences at Qatar University. Staff and students exchange opportunities will form a key part of planned activities, which will include joint research and teaching collaborations through a programme of meetings, conferences and workshops at Sussex, Lund and elsewhere.
Sussex-Ghana Partnership on Improving Basic Education Systems in Africa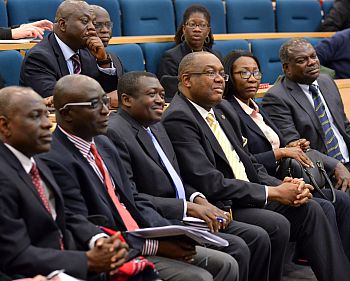 Research links between the School of Education and Social Work at Sussex and the College of Education at the University of Ghana (UG) have now led to the International Conference on Education Research for Development (ICERDA), a global forum to disseminate research that addresses and develops a critical discourse on education for development in Africa. The partnership has resulted in academic exchange, with faculty from UG visiting Sussex to develop a two-year research project on effective forms of teaching and learning mathematics in the African context. Sussex Professors Brian Hudson and Kwame Akyeampong have been appointed Adjunct Professors at UG to facilitate future research collaboration.
Sussex-HKUST Partnership on Genome Instability
A partnership betweern the Divison of Life Science at Hong Kong University of Science and Technology and the Genome Damage and Stability Centre (GDSC) at Sussex to identify problems of common interests and complementary expertise in DNA metabolism and genome biology, with a specific emphasis on research into understanding genome instability (a characteristic of most cancers). In 2015, 12 researchers from the GDSC travelled to HKUST for a four-day workshop exploring new approaches to genome replication, repair, recombination and reprogramming (4R). This has given rise to doctoral student mobility, collaborations between laboratories and plans for joint funding applications. Scientists involved in the collaboration have also led on a British Council panel to address closing the science gender gap in Hong Kong and the UK.
Sussex-Cornell Partnership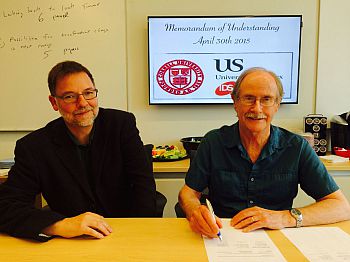 The Sussex-Cornell Partnership was formally established in 2015 with the signing of a three-way Memorandum of Understanding between the Department of Development Sociology at Cornell University, the School of Global Studies at the University of Sussex and the Institute of Development Studies at Sussex. The aim of the partnership is to develop links between the three institutions that will further their research, teaching and outward-facing activities in the field of Global Development, and joint activities underway include a Visiting Faculty Scheme, a PhD Symposium Programme, a Research Working Group on The Current Conjuncture in World Affairs, collaboration on an American Sociological Association Conference and the development of an international Consortium on Global Development.
International Antimicrobial Resistance Network
The Wellcome Trust Brighton and Sussex Centre for Global Health Research, together with the Centre for Global Health Policy at Sussex, the Institute of Global Health at the University of Barcelona and the Institute of Medical Microbiology, Immunology and Hygiene at the University of Cologne, have established an interdisciplinary research alliance to tackle the evolving global health threat of antimicrobial resistance that brings together world leaders in the field. The network will enable biomedical experts to team up with social scientists to develop a comprehensive research plan to meet an urgent need for multidisciplinary research on AMR in order to develop solutions for this major global health threat.
Sussex-Bocconi-Renmin Intrapreneurship Hub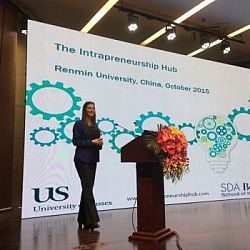 Originally launched in May 2015, the Intrapreneurship Hub is a collaborative research initiative between the School of Business, Management and Economics at the University of Sussex, SDA Bocconi School of Management in Italy and the School of Business at Renmin Univeristy of China. The interdisciplinary team brings together significant competences in the areas of strategy, entrepreneurship and innovation, with expertise grounded in several years of academic research and industry collaborations. Built on the idea of delivering mutual benefit for industrial practice and academia, the Intrapreneurship Hub provides a platform to share the latest research findings and offers industry partners customized research projects, confidential analyses and metrics to assess corporate entrepreneurial performance and stay at the forefront of innovation management.
UK-Japanese Partnership on Higher Education Knowledge Exchange and Policy Learning in the Asian Century
A bi-lateral research partnership between the Centre for Higher Education and Equity Research at the University of Sussex, and the new Research Institute for Japan, the UK and Europe at Hiroshima University, which will develop original comparative higher education research on current policy priorities in the two countries, addressing the Asian Century, privatisation, internationalisation, teaching and learning, equity and inclusion and the future of doctoral education.
Americans in Paris

An interdisciplinary research network led by the Sussex Centre for American Studies at Sussex, Americans in Paris explores why Paris drew Americans across the literary, artistic, business and political spheres in the long twentieth century. Building on existing research on Paris as a key site for 'transnational America', the network is investigating historical and current dimensions of Franco-American exchanges, and broader theoretical questions relating to diasporas, extraterritoriality, migration and what it means to be an expatriate in the modern world. Partners include the Karla Scherer Center for the Study of American Culture at the University of Chicago, the Arcade digital archive at Stanford University and Musée Franco-Américain at Blérancourt.
Network Tackling Podoconiosis in Central America
Podoconiosis is a widespread non-infectious disease of the lower legs that causes swelling, pain, disability and extreme social stigma for sufferers. Through world-class genetic, public-health and social-science research, the Wellcome Trust Brighton and Sussex Centre for Global Health Research (WTBSCGHR) has developed a network to explore the extent to which podoconiosis is a neglected public health problem in Central America and will support endemic country control through the establishment of sustainable regional collaborations and evidence-based interventions. The new network will enable the WTBSCGHR to enhance an existing partnership with Footwork,the International Podoconiosis Initiative and develop new collaborations with the Pan-American Health Organisation and the Centre for Health Studies at University del Valle in Guatemala.