University news
University of Sussex's marathon effort to raise funds to boost local biodiversity
By: Neil Vowles
Last updated: Thursday, 24 March 2022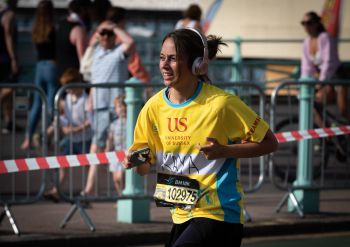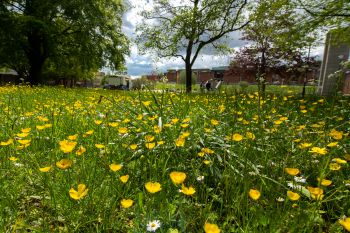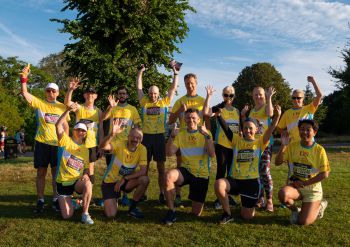 Thirty-nine runners and cyclists are preparing to test themselves at the Brighton Marathon Weekend to raise money for biodiversity projects on and around the University of Sussex campus.

University of Sussex staff, students and alumni have put their names down to participate in the latest running of the Brighton Marathon Weekend which will take place on April 8 - 10.
This year University of Sussex runners and cyclists are united under the Race for the Planet campaign where funds raised will support our aim to create and maintain a sustainable and biodiverse campus in Falmer and beyond.
Participants have raised around a third of their £8,500 fundraising target with more than 130 generous supporters already making donations. Exceeding the fundraising total will allow the University to fund even more projects.
A further six runners have deferred their place from last year and will be raising funds to support the University's ground-breaking mental health research.
Team Sussex, with participants' experience ranging from running novices to Marathon regulars and everyone in between, will be taking on the Brighton Marathon, the BM10K and BM 50km Ride.
Professor Rachel Mills, University of Sussex Provost who will be competing in the Brighton Marathon for the first-time next month, said: "I'm really excited to be running for #TeamSussex and think we've got a great opportunity to make a big difference for local biodiversity through this fundraising campaign.
"I've been upping my mileage this year and have done a couple of long and hilly races in preparation for the marathon event. Now I'm into the final push and I just need to make sure I'm race ready for April 10th.
"I'm looking forward to running round beautiful Brighton and to all the support from our community."
Dr Christopher Sandom, Senior Lecturer in Biology at the University of Sussex and rewilding expert, said: "For as long as I can remember nature, the environment, biodiversity, whatever you want to call it, just felt important to me. This has shaped my career and I'm really passionate about nature recovery. So getting the chance to run to raise money to support more nature recovery on and around campus is fantastic.
"I recently gave a class to eight-year-olds on rewilding. It was amazing, I've never been in a room of such engaged, knowledgeable, and enthusiastic kids with a passion for rewilding. They asked me how many species I had reintroduced and I had to tell them the answer is currently none so I really want to change this by making it possible through nature-recovery projects in Sussex."
The Sustainable Sussex strategy outlines the University's ambition to be one of the most sustainable universities in the world, showing global leadership in all forms of environmental, social and economic sustainability.
The University has ambitious plans and targets to achieve this and will be using the money raised by Brighton Marathon participants for projects to protect and enhance biodiversity on campus and in the wider community.
Currently about a quarter of the University's campus land is set aside for nature. But the University has just launched its Big Biodiversity Conversation with staff and students which could ultimately lead to half of campus land being given over to nature.
The University of Sussex community is currently taking part in an online conversation exploring the levels of support for a variety of proposed biodiversity projects and a shortlist of options will be finalised at an event on campus on Thursday April 28 as part of the University's Biodiversity Week.
The University has already committed considerable investment into projects to boost the sustainability of the campus and its surrounds including £40,000 for eight student-led projects as part of our Pitch for the Planet competition.
This year's winners, including a rental and repair business for pre-loved clothes, a social initiative supporting fruit and nut tree planting along Sussex riverbanks, an AI technology project measuring biodiversity in ecosystems and a business growing and harvesting microgreens for food, were announced earlier this month.
Dr Ellen Rotheray, convenor and lecturer for Global Biodiversity Conservation and Conservation Biology Masters courses at the University of Sussex, said: "I'm running 10K in the Brighton Marathon because I want to focus on something challenging to support something I care passionately about. I want to re-focus anxious energy about global events to helping my local patch in a small but significant way and I want to get active and shout a little louder about this cause, to stand (and run) with peers to make a positive change.
"Both the distance and being in an event like this will be a challenge for me. I'm also due to be teaching on our African Zoology field course to Zambia in the two weeks leading up to the Brighton Marathon so I'm not sure where and how I will continue to prepare but I'll keep my supporters posted the best I can."

If you wish to support participating runners and cyclists visit https://www.justgiving.com/campaign/sustainablesussex or https://www.justgiving.com/campaign/mentalhealthresearch.