University news
University shortlisted for award in recognition of hosting global sustainability conference
By: Neil Vowles
Last updated: Monday, 23 August 2021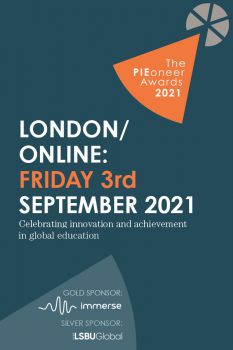 The University is in the running for a sustainability award at a prize-giving ceremony celebrating innovation and achievement across the global education industry.

The University has been nominated in the Sustainability International Impact category of the PIEoneer awards which will be taking place on Friday 3 September 2021 at London's Guildhall and online.
Sussex made the shortlist for the virtual conference Internationalisation and the Global Sustainability Challenge which focused on the challenges that universities face as they scale up environmentally-sensitive internationalisation activities in advance of COP26 and deliver impactful solutions to global sustainability.
The discussion brought together students from New Zealand and the US with their University of Sussex counterparts to discuss the issue of Internationalisation and the Global Sustainability Challenge.
Recent alumni from Sussex also reflected on examples of their own efforts to be sustainable global citizens as part of the discussion. The event was part of the University's Global Partnership Conference which was held on 25-26 June last year.
The PIEoneer Awards, now in their fifth year, recognise both individuals and organisations who are pushing professional standards, evolving their engagement or redefining the international student experience.
They are organised by The PIE, a media, careers and events company connecting a global community of professionals working in international education.

The University of Sussex has developed ambitious plans to become one of the world's most sustainable universities.
The Sustainable Sussex strategy challenges the University to reach net zero by 2035 (for direct and indirect carbon emissions), recycle 50% of waste by 2025 and create the UK's most biodiverse campus by setting aside up to half of our site for nature.
The University is looking to build on existing sector-leading performance on key issues of sustainability which includes having the largest on-campus solar farm of any University in the UK, becoming the first UK university to introduce an aerobic digester for food waste and significantly reducing the use of disposable cups via an innovative hot drink pricing scheme.