University features
Students and staff praise brave mum who gave her body for public dissection
By: Jacqui Bealing
Last updated: Friday, 2 December 2022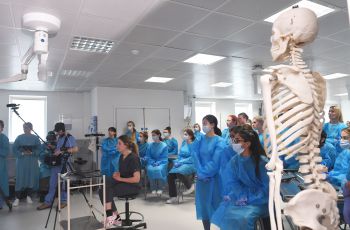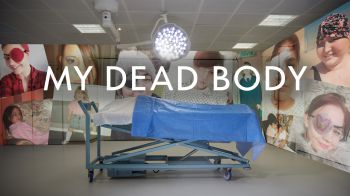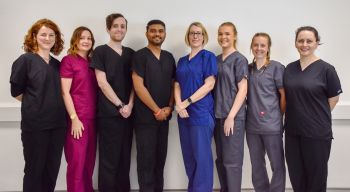 Medical and allied health students and staff have paid tribute to a "selfless" young mother, whose extraordinary gift to science will educate millions.
Toni Crews, who died from cancer in 2020 at the age of 30, gave permission for her body to be used for medical science and for 'public display' to raise awareness of the disease.
Her dissection was carried out in a series of 12 workshops in front of nearly 1,000 students from Brighton and Sussex Medical School (BSMS), the University of Sussex and the University of Brighton.
Her consent to waive her anonymity also made it possible for the workshops and her personal story to be captured by documentary filmmakers 141 Productions for their one-off programme, My Dead Body.
Students who attended the dissection showed their appreciation of Toni's decision by sharing their feelings with her family afterwards. Many praised her for her "bravery and courage" and said they felt "inspired" by the opportunity the experience gave them to further their knowledge.
A first-year student nurse wrote: "Her brave and selfless act of allowing me this amazing opportunity will never be forgotten and has truly made me a better nurse and person. Thank you so much."
Another commented: "Working with Toni has been a privilege. A truly fantastic lady who has selflessly helped students learn about the spread of metastatic cancer and human dissection.
"Having her in our care has been an honour. I am grateful for this learning opportunity but also the gratitude I hold for life since working with her."
"Healing" experience
One student, whose father died from cancer, found the experience "healing" because it brought "some peace in regard to my own journey with losing someone to cancer".
Professor Claire Smith, Head of Anatomy at BSMS and Deputy Pro-Vice-Chancellor for Education and Innovation at the University of Sussex, led a team of expert surgeons and clinicians to run the workshops.
She says: "This gave us a wonderful opportunity for students in allied health as well as medical students to be able to learn about what happens inside the body.
"In Toni's case, we worked with her family to ensure that they were aware of what would happen and to be part of the process every step of the way in carrying out Toni's wishes."
The documentary follows Professor Smith and her team as they dissect Toni's body and chart the course of an aggressive cancer that developed in her tear gland – an extremely rare site for a tumour to grow – to understand exactly what caused her symptoms and to build a timeline of how it spread.
"We feel she would be proud"
It features Toni's words, voice and moving video footage of her, charting her thoughts and feelings from her initial diagnosis in 2016, through to surgery to have her eye removed, and her decision to make her body available to educate others after her death.
It also captures conversations between Professor Smith and Toni's parents, Jo and Jason, at their home in Deal, Kent, with Professor Smith explaining what she had observed from the course of Toni's illness and the remarkable contribution their daughter had now made to education.
"We have been so privileged to explore the journey of cancer through her incredible donation," says Professor Smith. "Toni will of course never know the impact of her decision, but we feel she would be proud. Through her gift, millions will benefit through research, education, and the awareness that she is raising of her experience and her rare cancer."
Professor Smith, author of The Silent Teacher: The Gift of Body Donation, says medical science gains immeasurably from studying donor bodies and she hopes the documentary will encourage more to consider becoming donors.
"Body donation is a truly amazing act," she says. "We need to train the next generation of medical and allied health care students. Once qualified, we need to help them to continue learning and to push the boundaries of medicine. This might be through developing new surgical techniques, life-saving interventions, or furthering the understanding of our bodies.
"If, as a result of this documentary, one extra person goes to a health provider to double check a symptom, or one more young person is attracted to a career in medicine or science, then I believe that Toni's wishes will have been carried out."
"Profound impact on students"
The anatomy team at BSMS delivers teaching to around 3,000 individuals a year, caring for around 60 donors in addition to looking after a collection of museum pots, prosections and skeletal material that comprises thousands of specimens.
The dissection was filmed as part of BSMS's anatomical examination licence. The documentary was carried out under both BSMS's anatomical examination licence and its public display licence owing to Toni's choice to waive her anonymity.
While museums often hold a public display licence to enable them to exhibit body parts, BSMS was the first UK medical school to hold one. The licence was granted to the school in 2019.
Members of BSMS's Anatomy Department involved in the workshops also recognise the special benefits of Toni's donation.
Danya Stone, Lecturer in Antaomy, says: "Piecing together what we learned about this donor during both life and death made this dissection unique. Having her scans and knowing the journey of her cancer meant we could pay extra attention to areas with pathology and link what we observed to how it actually affected her during life."
Dominic O'Brien, Lecturer in Anatomy, says he can see how the experience has had a profound impact on the students in evaluating their own attitudes to health and lifestyle.
"This level of widespread and accessible education that Toni has enabled has the potential to reach innumerable individuals. The hope is that this can encourage as many people as possible to seek the relevant advice and healthcare that could save their own or a loved one's life."
My Dead Body, will be broadcast on Channel 4 at 10pm on 5 December 2022. It is produced by 141 Productions, part of Objective Media Group, an All3Media Company. Directed by Sophie Robinson, with Executive Producers Hannah Brownhill and Toby Stevens for 141, and Anna Miralis for Channel 4.