University features
Students who have been in care set to benefit from largest ever philanthropic donation for Sussex undergraduates
By: Anna Ford
Last updated: Monday, 3 October 2022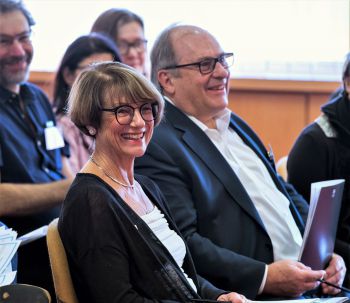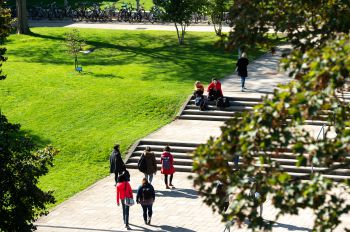 A new £600,000 scholarship programme supporting University of Sussex students who have been in care is to be rolled out this academic year, following the largest ever philanthropic donation for undergraduate students studying at Sussex.
The ten-year programme will be funded by the philanthropic Rudd Family Foundation, which was co-founded by long-term supporters of the university Andrew and Jinny Rudd, and which supports educational and youth activities in the US and UK. The foundation will finance an annual £5,000 bursary every year for a number of young people studying at Sussex, who have previously been in care, across all years of study. Starting this academic year, a new cohort of care experienced students will receive the money in termly instalments over three years.
The endowment will be known as the Andrew Rudd Scholarships Program after Professor Rudd, who is a Sussex alumnus, graduating with a BSc in mathematics in 1971, and a former chair and president of US charity Friends of the University of Sussex. Research shows that young people who have been in care have significantly poorer educational and life outcomes than the general population on average. This generous scholarship is intended to support care experienced students' living costs whilst at Sussex, to enable them to make the most of their student experience and fulfil their potential.
Professor Sasha Roseneil, Vice-Chancellor at the University of Sussex, said:
"Young people who have experienced the care system are hugely under-represented in higher education, and, when they do make it to university, often struggle due to the lack of family support that other students take for granted. We want both to encourage care-experienced applicants to come to Sussex, and then to enable them to make the most of their time as students, succeeding academically and graduating with the skills and knowledge to thrive in their lives after university.
"We are therefore hugely grateful to the Rudd Family Foundation for supporting our ambitions for this group of students through the Andrew Rudd Scholarship Program. It will make an enormous difference to our students, providing them with options and opportunities that would otherwise be out of reach.
"Our intention is to build on our long-standing tradition of widening participation in higher education, so that more young people who have experienced care are able to realise their potential through a Sussex education. The Rudd family's immense generosity is making this possible."
Jinny Rudd, co-founder of the Rudd Family Foundation, said:
"Education has always been important to Andrew and our family as a way to expand opportunities and choices in life. Andrew began his university career as an undergraduate at Sussex University and, with his degree and preparation from Sussex, he went on to earn two master's degrees and a PHD from the University of California in Berkeley CA opening up a career in academia as a Professor at Cornell University and then in the business world.
"Andrew now suffers from Alzheimer's, but we know he would feel privileged that this scholarship will be made available to help support students, who have challenges in their lives, on their educational journeys.
"In this way his belief and passion for education can be passed on to students just beginning their university careers.
Jinny Rudd continued: "I wish all students success in their lives moving forward."
The number of young people in care in the United Kingdom has risen significantly in the last decade, with this figure likely to reach 100,000 in the next few years. Currently, according to the Office For Students, only 13% of pupils who have been in care for 12 months or more entered higher education, compared to a national average of 43% across all student groups.