University features
"The greatest period of my life"
By: Jacqui Bealing
Last updated: Friday, 30 September 2022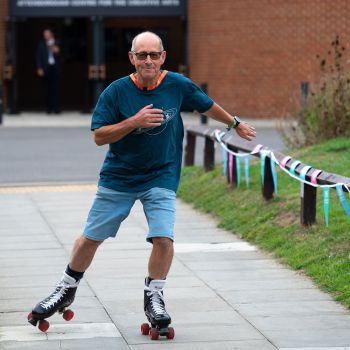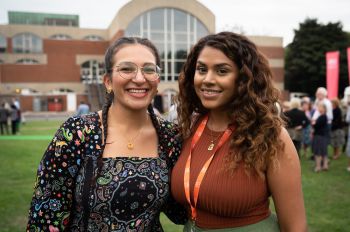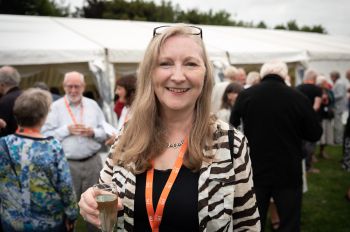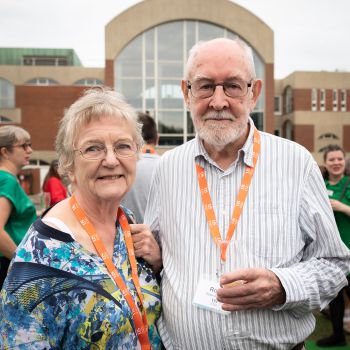 Sussex alumni reflect on their time at Sussex during the 60th anniversary reunion weekend.
During the final weekend celebrations of the University of Sussex's year-long 60th anniversary, Vice-Chancellor Professor Sasha Roseneil told gathered alumni they were "the bedrock of the Sussex community".
More than 400 former Sussex students had come to campus (2-4 September) to catch-up with old friends and classmates, to take a tour of their familiar haunts, and to discover what new physical and educational developments had taken place in the years since they graduated.
At a drinks reception in a grand marquee outside the Attenborough Centre, Professor Roseneil welcomed alumni from across the globe and shared the fact she, too, was offered a place to study history at Sussex during the 1980s.
"I applied because I was attracted by its radical reputation and its interdisciplinary courses," she admitted, before revealing that her plans then changed. "For better or worse, I went to LSE and the city lights of London. I know… I'm sorry. But I'm here now."
Despite her earlier choice, she said she had continued to have an affinity with Sussex and had collaborated in her academic work with many Sussex staff and alumni over the years. When she announced her new role to colleagues at her previous university, UCL, she said she was overwhelmed by how many told her about their student days at Sussex "and how much they loved, and owed, to the university".
She went on to describe the significance of Sussex's influence, such as its involvement in the anti-apartheid movement, its heritage that included five Nobel Prize winners among staff and students, and its highly regarded reputation in academic research.
"Across all our disciplines our academics are focusing on the urgent concerns of our time," she said. "In doing so, Sussex is making a vital difference to the survival and flourishing of humanity, now and for the future."
She also praised alumni for supporting students in myriad ways, from mentoring young undergraduates, to supporting the Emergency Hardship Appeal for students during the early days of the pandemic, and for making generous donations to help Afghan and Ukrainian students affected by war and conflict. She said: "You are, and always will be, the bedrock of the Sussex community."
Her words were enthusiastically received by the alumni audience.
Louise Ellis, who studied English at Sussex (1979-1982), said afterwards: "The VC's speech made you feel proud to be part of a university that cares about global issues. I worked as a journalist after Sussex and I continued to want to create change in a positive way."
Karl Horbelt and Oliver Dallas agreed that the speech encapsulated their thoughts and memories, even though, as physics students in the late 80s and early 90s, they spent more time in labs than in protests.
Karl, who chose Sussex because its interdisciplinary structure allowed him to combine physics with German studies, said: "Although it always had a radical reputation, we did a very intensive subject and were studying nine-to-five."
Earlier Karl and Oliver had both taken a tour of campus and had appreciated the opportunity to revisit the lecture theatres and labs of their well-spent youth.
Oliver said: "This is my first visit back to campus. It's special to come here with my good friend, Karl. When I think about my time at Sussex, I remember the people I met rather than the academic challenge."
Friends Amanda Diniz and Yousra Abdelmoneim were also enjoying their trip down memory lane. They graduated in 2012 and had come to the reunion with a group of fellow alumnae.
"It's been very emotional," said Amanda. "As a group, we try to go away in the UK every year. It seemed a great opportunity to come back to campus ten years after graduating."
Amanda and Yousra were both student residential advisors on campus and remembered the old East Slope residences before they were demolished and replaced with new halls. "It's all very different now," said Yousra.
The University has a very special significance for Melanie and Robin Shrubsall. They met in 1962, when Robin was a postgraduate student in theoretical physics and Melanie was physics undergraduate.
"Campus seems much bigger," said Robin. "But then, in 1962 there were hardly any buildings and only 300 students." The couple, who have been married for 56 years, lived off campus in guest houses as student halls had not been built. They remembered their first date was to see a film adaptation of Lord of the Flies in Brighton.
Jon Brightling celebrated his return to campus since graduating in 1983 by bringing along his roller skates. The former engineering student was known as "Jon Skate" for his mode of travel in Park Village residences.
"It was how I used to get about," he said. "I brought my skates with me today because I wanted to remember how it felt. It felt great!"
Simon Fanshawe OBE, former Chair of the University's Council (2007-2013) and an alumnus (1975-78), gave the introduction to Professor Roseneil and drew on his own memories about how, as a "posh boy from a public school", mixing with people from all backgrounds at Sussex had opened his eyes to new ways of seeing the world.
It was a challenge he welcomed. "Working class people took one look at me and were appalled," he joked. "But that was the greatest period of my life, and of your lives too, I suspect."