University features
Sussex maintains position for fourth consecutive year in latest global rankings
Posted on behalf of: Communications
Last updated: Tuesday, 6 September 2022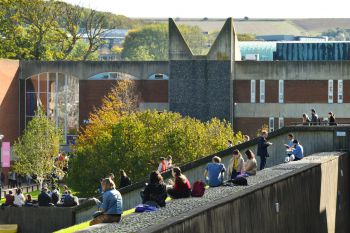 The newly released ShanghaiRanking's Academic Ranking of World Universities (ARWU) 2022 has placed the University of Sussex among the top 151 to 200 institutions in the world – a position that has remained unchanged for the last four years. The University of Sussex is ranked joint 17-21 in the UK.
The ARWU rankings methodology is based on a range of indicators including the number of alumni and staff winning Nobel Prizes and Fields Medals, highly cited researchers and research outputs, and per capita performance of a university.
For the first time, the subjects Economics and Geography have achieve a World Top 100 ranking in the Shanghai Global Ranking of Academic Subjects, rising to 51-75.
The University also performed strongly in the citations indicator which measures the number of highly cited researchers selected by Clarivate Analytics. The researchers from Sussex include: Dr Constantin Blome, Professor Dave Goulson, Dr Paula Kivimaa, Professor Karoline Rogge, Professor Ian Scoones, Professor Adrian Smith, Professor Steven Sorrell, Professor Benjamin Sovacool, and Professor Anil Seth.
Professor Sasha Roseneil, University of Sussex's Vice-Chancellor, said: "We are very pleased to see that once again Sussex has maintained its place amongst the leading universities in the world, and the best in the UK. The research of our academics, and our former students, is at the cutting edge of knowledge creation, and is widely recognised and cited by fellow researchers around the globe. Sussex is committed to making a positive, transformational difference in the world through our research, and the world-wide dissemination and recognition of our work are a vital part of this."
This year, Sussex's ranking position for the number of articles published in the important journals Nature and Science between 2017 and 2021 climbed by more than 25 places compared to last year.
This year, the UK has 63 ARWU Top 1,000 universities listed, with 38 in the Top 500 and eight in the Top 100.