University features
Prof Sasha Roseneil, Sussex's new Vice-Chancellor, joins the University's Pride procession
By: Anna Ford
Last updated: Friday, 5 August 2022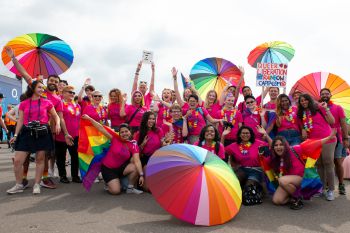 The University of Sussex's new Vice-Chancellor, Professor Sasha Roseneil, who is the first woman Vice-Chancellor in the University's 60-year history, will be joining the University in the Community Pride Parade, to celebrate and recognise diversity in our community. The University of Sussex is once again a proud partner of this year's Brighton & Hove Pride event on Saturday 6 August. 
As part of her first week in the role, Professor Roseneil will join the 50-strong group of students, alumni and staff to celebrate Brighton & Hove Pride and support the LGBTQ+ community.  
At this year's Pride event, Professor Roseneil will meet and engage with students and staff across a broad range of disciplines, championing the University's commitment to equality, diversity and inclusion. 
Professor Roseneil said: "Through our involvement with Brighton & Hove Pride, the University of Sussex is expressing our support for the LGBTQ+ community, both within the University and beyond.Tackling inequality and celebrating diversity are vital if we are all to flourish. It's an honour to join the Pride processionin my first week as Vice-Chancellor, and to be part of this great celebration, which I am sure will be even more joyful and exuberant than before the pandemic."  
Professor David Ruebain, Pro-Vice-Chancellor (Culture, Equality and Inclusion), will also be joining this year's parade. He said: "We are proud partners of Pride, and have been since 2017. It will be an honour for Sussex to support such an important event which celebrates inclusivity and diversity, raising the flag for LGBTQ+ equality, both at the University, and also as part of a wider community across Brighton, Hove and beyond."
The University became an official partner of Brighton & Hove Pride in 2017 and has continued its support of the event over the last five years. Paul Kemp, director of Brighton & Hove Pride said: "We are delighted to have the continued support of the University of Sussex and welcome them back as a partner again this year. After two years of not being able to celebrate, we are excited that the Vice-Chancellor, staff and students will join us for the LGBTQ+ Community Parade to celebrate 30 years of Pride in our city under the theme of 'Love, Protest & Unity'."