University features
"I felt supported every step of the way" - Mark Comeda, Student Connector
Posted on behalf of: Connector Programme
Last updated: Friday, 25 March 2022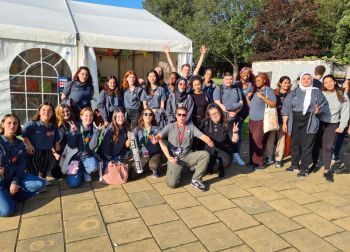 The Connector Programme is a way for students at Sussex to inspire and actively make change at the University while developing personal and professional skills – and getting paid at the same time. Student Connectors work in equal partnership with staff and other students to find strategies and implement ideas that will enhance student life in different ways. The aim is for Sussex to better represent students and provide what they really want and need at university.
Meet Anna Izykowska, Logistics Officer, and Mark Comeda, Economics with Legal Studies student and Student Connector. Anna and Mark worked in collaboration on the planning and delivering of Welcome Week 2021. In this article, we asked them to reflect on their experiences in this project and in the Connector Programme in general.
Connector Programme: Tell us about your Connector work – what does it focus on? Why is this work important?
Anna: The Welcome 2021 Connector Project aimed to work with Student Connectors on designing and delivering an engaging, exciting and, most importantly, student-focused induction for new and returning students. Transitioning to university is one of the most critical stages in the student lifecycle. It is the next step new students take in their higher education journey post-registration. Crucially, this year the focus was also on our returnees, who might not have had a fulfilling university experience due to the pandemic. We wanted to offer them a second welcome to campus.
I worked with a team of six Student Connectors over the summer on many aspects of the Welcome Week. The project focused on reviewing historical activities, improving student communication and access to information, producing videos and promotional materials, delivering a social media campaign, designing a new Welcome Booklet, and running on-campus events such as Student Panels and wellbeing sessions.
Interlacing student voice was crucial in the planning of Welcome events, activities and communication. Student Connectors used their experiences to make improvements and propose new initiatives to enhance the engagement of the student community with Welcome.
Mark: My position as Student Connector working in Welcome Week involved working as a team to ensure new and incoming students were able to have a warm and positive welcome experience. Our tasks focused on a variety of aspects from creating a Welcome Week information booklet to developing fun events for students to partake in. One of my main focuses in this role was to build social media presence by creating content which would be shared on various platforms. The aim of these social media posts was to answer student queries, provide university tips and inform them of upcoming events, in an effort to ease their worries about starting university. This was important since Welcome Week may be an intimidating process for many individuals and there is often a lot to take in. We wanted to ensure that students accurately received all the necessary information without being overwhelming as well make moving in a fun experience.
Connector Programme: What is the co-creation relationship between students and staff like, on the Connector Programme?
"I found early in the process that we shared a common goal of creating a Welcome that is led by the students for the students." – Anna
Anna: Working with Student Connectors was a fantastic experience. I found early in the process that we shared a common goal of creating a Welcome that is led by the students for the students. Having that mutual aspiration formed the basis of the student-staff relationship, which was strengthened through regular team meetings and 121s. Team meetings were particularly important because they provided the students with a safe space to explore ideas and receive constructive feedback whilst giving the Connectors a sense of belonging when we could not see each other in person.
What struck me the most was the tremendous amount of initiative the Connectors showed and how much positive energy they injected into the project. They worked hard on their tasks every week, brought fresh ideas to the table and got out of their comfort zone to deliver on projects. The students genuinely wanted to make a difference in the way Welcome was delivered. As the project progressed, I realised that my role as a Staff Connector was listening, supporting, and facilitating their ideas. The more I trusted them to lead independent, the more confident they became.
As a result, Student Connectors delivered a fantastic Welcome Programme that was both exciting and engaging. The highlights would be a successful social media campaign, Welcome Booklet (over 1200 copies were handed out during Welcome Week!), student community-building events such as the first-ever campus Treasure Hunt, and wellbeing workshops focusing on art and sports.
Mark: My experience with co-creation has been extremely positive. Both my line manager and staff that I worked with were supportive throughout and it was good to feel like there was always someone who I could rely on if I ever got stuck. I felt supported every step of the way regardless of whether I felt nervous or apprehensive about an idea or task. One of the main moments where co-creation really played a huge role in the success of carrying out my job was when running an event during welcome week. This was initially intimidating as it began as just an idea but after sharing it with staff and the rest of the team, I was able to gather ideas and feedback until I was able to develop a project plan. When leading the event on the actual day I remember sharing with my team my worries about the event not turning out how I want it to be, everyone began to encourage me and offered their help to make sure it went smoothly. This really highlighted the importance of co-creation as without them I probably wouldn't have had the confidence to carry out the event.
Connector Programme: How has working with the Connector Programme impacted your personal experience of working/ studying at the university?
"Working as a Student Connector isn't just about developing skills, but it's also about the people that you meet whilst being part of the Connector Programme network." – Mark
Anna: I found the experience of working with Student Connectors both enriching and fascinating. I spent most of my time working with other staff members rather than students, so I immediately agreed to it when I was given the opportunity to work on the Connector Project.
Connectors provided me with invaluable expertise on the meaning of student experience. I had the unique opportunity to look at Welcome through their lens, where students are at the heart of what we do.
For me, the project was so much more than just delivering a Welcome to students. It was a knowledge exchange between myself and the Connectors. I have learnt an incredible amount from them about the best ways of engagement, primarily through social media, and the importance of student-led activities that build a strong student community. In return, I passed on project management and leadership skills and gave them the unique experience of navigating Sussex's complex processes.
Mark: Working with the Connector Programme has provided me with the opportunity to gain and develop many transferrable skills which I have been able to use when applying for graduate jobs and schemes. For example, during my work during Welcome Week, I was able to develop a range of skills involved in project management when planning a treasure hunt around campus for students. This included organisation, leadership and communication skills as well as considering a budget. I have truly seen a difference in the way in which I approach tasks before doing my Connector role and after my Connector role which I will continue to take with me in the future.
Furthermore, working as a Student Connector isn't just about developing skills, but it's also about the people that you meet whilst being part of the Connector Programme network. From carrying out my role as a Connector I have been able to work with some individuals who have become some close friends of mine. I have also been able to meet with other students who are on my course who I occasionally study with.
Connector Programme: What impact has your Connector work had on the student body? Has anything about your time as working with the Connector Programme surprised you?
"The Connectors produced some high-quality work which was a testament to their hard work and passion for making a real change to the student experience." - Anna
Anna: Organising the Welcome every year is a big undertaking. From a staff point of view, it is very easy to lose perspective and forget what Welcome is truly all about. I was thankful to have the Connectors reminding me of the importance of weaving in the students' voices in everything we did. The Connectors shaped almost every aspect of Welcome, from written publications and video content to leading events. Their involvement was crucial in improving students' engagement, especially on social media platforms.
I was surprised just how rewarding the work with the Connectors was. I enjoyed watching the students learn new skills, grow in confidence and take on new challenges. They produced some high-quality work which was a testament to their hard work and passion for making a real change to the student experience.
Connector Programme: What ideas and advice would you share with others who are thinking of getting involved?
Anna: If you have a project that you believe will positively impact our students and their experiences, then I say go for it! My main advice would be to be specific about what your project aims to achieve and how the co-creation will work.
Mark: I would 100% recommend applying for a Connector role to everyone who is thinking of getting involved. It is a good opportunity for you to gain some experience and develop many skills. One of the main aspects of working with the Connector Programme which really benefited me was the ability to work flexibly and around my studies this is something that was important for me when looking for a part time job as I also had other commitments.
I would advise those who are starting or looking to start new Connector roles, to really immerse yourself in your role and within the Connector community, you will get so much more out of it and also meet lots of great people along the way.
Connector Programme: Any other comments you would like to make about being part of the Connector Programme?
Anna: The experience of working on a Connector Project brought me closer to the student community. It also widened my knowledge of how to best support new students in their transition to university. I am looking forward to start working with a new cohort of Welcome Lead Connectors next year.
If you wish to learn more about the Connector Programme feel free to find us on the Staff Hub, on the Student Hub or on Instagram @connectorprogramme You can also contact the team on connectorprogramme@sussex.ac.uk
Further information: https://student.sussex.ac.uk/experience/connectors