University features
Coffee, cake and lively climate debate
By: Jacqui Bealing
Last updated: Friday, 5 November 2021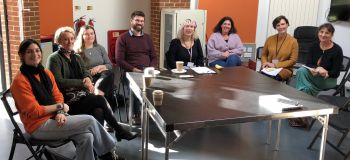 Are we giving biodiversity the attention it needs? How can we manage our digital carbon footprint? Which is the most sustainable food outlet on campus?
The first of a series of Climate Coffee and Cake events for University of Sussex staff to coincide with the Glasgow COP26 climate conference sparked a wide-ranging discussion on what we can do, both as an institution and individually, to help the global environmental crisis.
Led by University Provost Professor Rachel Mills, with support from Sustainability Manager Sam Waugh, academics and professional services staff had a robust exchange of ideas over complimentary coffee and cake at the Attenborough Centre.
They included Dr Joanna Smallwood, law lecturer and co-lead of the Environmental Justice Law clinic, who said biodiversity should be as high on the agenda as the rising world temperature. She said she was looking forward to hearing more about the University's Big Biodiversity Conversation ahead of COP15 on biodiversity in China next April.
Biology Senior Lecturer Chris Sandom commented on how relieved he was that his passionate interest in rewilding had taken him from the "lunatic fringe" into mainstream debate. He pointed out how, in being part of the UNESCO Living Coast Biosphere, the University can set a great example to other universities on how to create a more biodiverse environment.
Professor Mills wanted to find out how reducing her email inbox and digital storage would reduce her carbon footprint, a concern echoed by others who also wanted some professional or institutional guidance on how to do this.
Other suggestions included having a thrift shop on campus, devising a Dragon's Den-style competition for staff's sustainability ideas, introducing sustainability into staff and student induction programmes, and reducing overseas field trips.
More questions were raised over whether the hybrid model of working from home and from the office increased individuals' carbon footprints.
Sam Waugh said that, as part of the Sustainability Strategy, the University was exploring multiple opportunities, both on campus and in collaboration with other local organisations, to reduce the University's carbon emissions. She said: "I feel that we have to do all of these things in an attempt to get to net zero."
More Climate Coffee and Cake sesssions with other members of the University Executive Group are scheduled until 11 November: