University features
How Sussex is staying physically, digitally and mentally fit in a pandemic
By: Jacqui Bealing
Last updated: Friday, 24 April 2020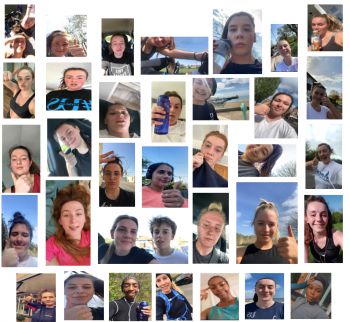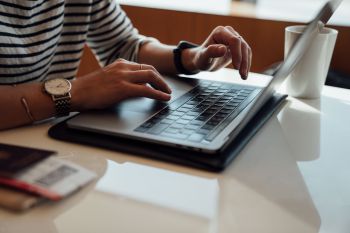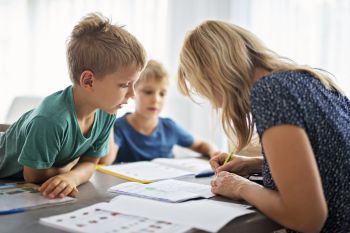 Amid the scary statistics, grim forecasts and tragic stories, there are glimmers of hope.
Sussex staff and students have been responding to the Covid-19 pandemic in remarkable and heart-warming ways, as the media have readily reported.
This week the University of Sussex Netball Club ran the equivalent of the length of Britain (1,400 km) to raise money for NHS charities.
Thirty four women took on the challenge of each running 44km in ten days. Within the first nine days, they had raised more than £4,000 – far exceeding their original target of £500.
One of the club's presidents, Eve Moseby, told BBC Radio Surrey and Sussex: "It's been a tough challenge for all of us so far, but we really wanted to come up with something that would raise awareness for what the NHS are doing and to support it, and something to keep our girls mentally and physically fit during this worrying time.
"A lot of us struggled at first with just finishing uni. It came to an abrupt end. This has been a really nice way of everyone keeping in contact and having something to do as a team. Even if we're not all together, this does feel like a real team effort."
More fundraising efforts by Sussex students to support charities during lockdown are mentioned on Sussexstudent.com
Meanwhile, the University's Director of IT Jason Oliver told Computer Weekly how the coronavirus outbreak sped up his plans to make the campus digitally fit.
He described how and he and his IT team had to get students and staff working remotely in record time as the UK went into lockdown. They fast tracked the implementation of a range of technologies, including the Canvas learning-management platform, Panopto lecture-capture software, Citrix virtual desktop infrastructure, Microsoft Teams for collaboration, and Zoom conferencing technology.
"It's been a real challenge, but it's also really fulfilling," he said. "These are exactly the things that we wanted to do to evolve teaching across the university in the next five years – but, instead, we're doing it now."
Sussex academics are continuing to provide essential advice and guidance on the crisis through media channels.
Psychologist Professor Sam Cartwright-Hatton has been reassuring parents not to get stressed about home schooling. In an interview with BBC South East, she said: "Parents have it really tough working from home while supervising their kids. Don't worry about it. Their emotional wellbeing is more important. A term of ropey education won't hurt in the long run. They're all in the same boat."
If you're worried about whether the contents of your store cupboard are still safe to eat, take a look at what Emeritus Professor of Science Policy Erik Millstone told the Guardian about the difference between sell-by dates (mostly guidance for retailers for stock control) and use-by dates, which could have more serious implications for your health if you ignore them.
With rapid movement in developing new diagnostic tests and vaccines, Michael Hopkins, Professor in Science Policy at the University of Sussex Business School, is hopeful that new anti-body tests will lead to a potential treatment.
He told The Sun: "This is an important test for identifying people who could donate blood that could be used as a convalescent plasma (or serum) therapy that could potentially be used in treating patients severely ill with the virus."
Senior Lecturer in Microbiology Dr Ed Wright also supports wider testing to move forward. When interviewed on LBC, he said: "In order to open schools we need to improve the testing capability – to detect those who have been infected. If we can get enough to see who has been infected, and isolate those who are infected, it may be possible to lift these restrictions sooner."
Dr Sam Roscoe, Senior Lecturer in Operations Management, was invited to give evidence to the International Trade Select Committee on 23 April about the effects on international trade of the Covid-19 pandemic.
Earlier this month he spoke to the Express about the possibility of paracetamol supplies from India, the main manufacturer, drying up by the summer.
And If you're beginning to feel your brain has gone into lockdown too, mathematician Dr Nicos Georgiou's latest Puzzle for Today on BBC Radio 4's website might just revitalise it – or confirm your fears.