University features
Run with #TeamSussex for mental health research - last free spaces
By: Anna Ford
Last updated: Thursday, 30 January 2020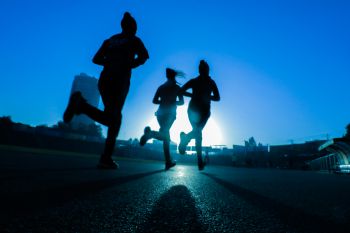 Calling all runners and cyclists who want to sign up for the 2020 Brighton Marathon.
The University of Sussex still has a few spaces available in its #TeamSussex running and cycling teams.
And if you join #TeamSussex you'll be raising money to fund the University's world-leading mental health research.
The University is offering runners and cyclists a chance to join #TeamSussex for free. There are 17 places available for the 2020 Brighton Marathon, 10 places for the BM10k, and 7 places for the BM Ride cycle event.
The University running and cycling teams are raising money for mental health research to inform and improve how mental health research impacts on people locally, nationally and internationally.
Running and cycling and other forms of regular exercise have been shown to boost mental health. Everyone who joins #TeamSussex will be provided with the training and fundraising support they'll need.
Professor Gordon Harold, a psychologist and former international athlete, is leading the charge (although a little slower these days ...). He is an expert in child and adolescent mental health and runs the e-Nurture network which promotes young people's mental health in a digital world. Professor Harold is also Director of the Rudd Centre for Adoption Research and Practice at the University of Sussex.
Professor Harold said: "Join us as we run and cycle to raise money to help people who struggle with mental health problems. I've been leading research into adolescent mental health for decades and I have seen how important it is to spot young people who are struggling with mental health problems early, and then to ensure they get the right support. It makes an enormous difference to their long term prospects of having strong mental health and positive future life chances."
Marina Pedreira-Vilarino, Director of Development & Alumni Relations, said: "One hundred percent of all donations we receive will go towards our world-leading mental health research. We're looking to create a fund that our researchers can bid for, ensuring that our supporters' generosity can make the most difference, including providing seed funding to support new research projects that will promote positive outcomes for adolescents and their families."
To claim one of these last few places to take part in the 2020 Brighton Marathon events between 17 and 19 April, join #TeamSussex, online at https://bit.ly/2uJhLMW And if you can't run or ride, but want to support the University's mental health research team you can donate to at https://bit.ly/2u3i8C2.