University features
Still defying boundaries five decades on
By: Jacqui Bealing
Last updated: Tuesday, 12 November 2019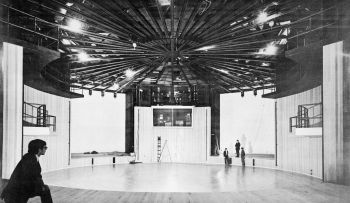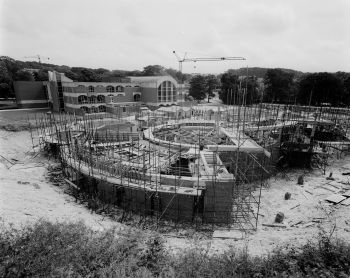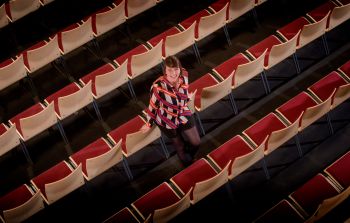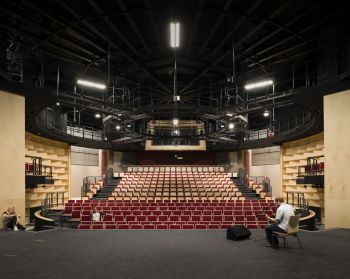 Fifty years ago this month Britain's first campus-based university arts centre opened its doors at the University of Sussex.
From its outset (12 November 1969) the Gardner Arts Centre – now the Attenborough Centre for the Creative Arts – was intended to provide an avant garde experience for audiences.
Contemporary dance, edgy and political dramas, experimental music, international and arthouse film, and other events that defy boundaries continue to inhabit the brick towers of the Basil Spence-designed building at Falmer.
Laura McDermott, the centre's creative director, was well aware of this history when she took on her role in 2016. The centre, which closed in 2008 when it lost regular funding from the local authority and from Arts Council England, had undergone a £8m refurbishment and was reopened and renamed in honour of film director Richard Attenborough, the University's former chancellor.
"So many of the founding principles of the University of Sussex were about trying to do things differently," she says. "From the visionary and bold architecture, to the interdisciplinarity of the curriculum, it was about providing an alternative to the traditional forms of higher education.
"The arts centre was an essential part of this experience. It recognised the role of arts as fundamental in society and as a key component in a rounded educational experience - nourishing your soul and developing your personal creativity. An early proposal to build the arts centre talks about the place of arts in university studies: 'It is the yeast in life's solid dough'."
While it has certainly enhanced campus life, the centre has also been a boon for the wider community, not just as a venue for annual events such as Brighton Festival, CINECITY and Brighton Digital Festival, but as a space for local artists, performers and musicians to rehearse and develop new work.
One of the towers that once housed an electronic music studio has been given a complete 21st -century makeover to become a new digital recording studio. Named in honour of the late Professor of Music, Jonathan Harvey, it's a facility for students during term time, but will be used for other projects during evenings and weekends.
When it comes to programming, Laura is keen to reflect both the University's original ethos and the principles of the late Lord Attenborough, a champion of human rights, social justice, creative education and access to the arts for all.
She points to an installation happening at the end of November (25 – 27 November), Of All the People In All the World by Stan's Cafe, which involves mounds of rice, with each grain representing an individual, to show political and social realities via human statistics (a tiny handful for those have walked on the moon, a huge pile for those displaced by war and environmental disaster).
As a celebration of the art centre's half century, Laura and her colleagues are devising a 50-day 'advent calendar' featuring treasures from the archive – counting down from 12 November to 31 December. "We'll have photos of artists who have appeared here – I've seen beautiful pictures of the writer Doris Lessing for example. We've found recordings of past gigs such as Animal Collective in the Brighton Festival, and images of the space in its various states of construction and renovation through the years."
They are also reprising the first concert given by the University of Sussex Symphony Orchestra in 1969. The event on 7 December features novelist and former University of Sussex student Ian McEwan reading from his original programme notes, and international pianist and composer Shin Suzuma (also a former student) playing Beethoven's Piano Concerto No 3 on the Steinway grand piano donated to the University by Tony Banks (another alumnus, and the keyboard player from Genesis).
"Bringing current students together with illustrious alumni in this way feels like the perfect way to celebrate – looking back but with an eye on the future," says Laura.
While it will continue to host a range of productions, Laura's ambition for the centre includes encouraging more connections between the academic and arts communities.
"I know of some amazing examples from across the world where researchers and artists collaborate to find an expression of that research that helps a wider public connect with it and understand it. I'd love to build up that area of our work more through residencies, fellowships and new commissions, and to bring in some research grants to support this way of working."
She is also interested in seeing how the centre could forge links between ocial entrepreneurialism, culture and creativity. "There is quite a movement in the cultural sector for artists to become organisers and lots of people are thinking differently and really creatively in terms of social innovation. Perhaps we could become an incubator for creative social enterprise and support initiatives that could solve some of the grand challenges of our time."
www.attenboroughcentre.com
Follow the treasures from the archive on the Attenborough Centre for the Creative Arts social media channels, using the hashtag #ACCAGardner50
Twitter @AttenboroughCtr

Instagram @AttenboroughCtr