Full features listing
This Sussex Life. Dr Stephen Wilkins, astronomer. "We're hoping to see the first stars forming."
By: Jacqui Bealing
Last updated: Wednesday, 15 December 2021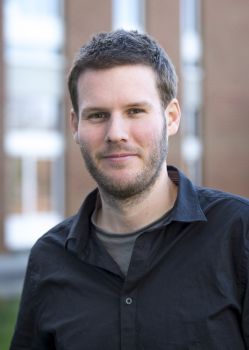 Reader in Astronomy and Public Engagement Fellow Dr Stephen Wilkins is among scientists around the world who will be analysing data from the James Webb Space Telescope, which is due to be launched from South America in the next few weeks.
The James Webb Telescope will show us almost the entire history of the Universe, from the first couple of hundred million years after the Big Bang, which happened 14 billion years ago. What we're hoping – and this is what I work on specifically – is that we will see examples of the first stars forming in the galaxy. We call this field 'first light' because that's what we're seeing; the first time the Universe was lit up.
I'm working with seven different teams. We're trying to find objects that we don't already know about. We point the telescope at as blank an area of sky as possible and wait to see what emerges. We're expecting to see that it's not empty at all and that it contains thousands of galaxies, each of which contains billions of stars. Other scientists will be using the telescope to look at stars and planets that we do know about and to get more detail. The great thing about Webb is that it can be all things to all astronomers
It would be boring if the Universe were simple. The closer we look at it, the more we realise how complicated it is. Much of my recent work has been in supercomputer simulations of the Universe – so predicting how galaxies formed. The hope is that our observations from Webb confirm these predictions. If they don't, that would be just as exciting as it would tell us that we have something fundamentally wrong in our model and will need to work out what that is.
As a kid, I was always taking things apart and trying to figure out how they work. I broke lots of things, which infuriated my parents – who had no interest in science. I grew up in the centre of Leeds on a council estate and I didn't see the Milky Way until I was about 20, when I was on holiday. Now I live in a village in the South Downs with no light pollution and I automatically look up to see if I can find that band of light, the thickness of your hand. I see it all the time.
I actually got into astronomy because of a computer game that came out in the mid 1990s. It was called Frontier and was the sequel to a more famous game, Elite. I see now that it was a pretty accurate representation of the Universe, with realistic planetary systems and different types of stars. I liked it because it wasn't a 'shoot-em up' game. Unlike many other games at the time, there were no set objectives and players had a large amount of freedom – you could explore, trade, be a bounty hunter, or even turn your hand to piracy. I mostly focussed on exploration with a bit of piracy on side.
I'm passionate about encouraging young people into science. I currently hold a public engagement fellowship, which means I have time to give talks and design activities. I also established a science education charity – Curiosity Sussex – which organises science fairs, including the Lewes STEM Fair and Brighton WonderFest. Thanks to excellent children's books such as Ada Twist, Scientist and Rosie Revere, Engineer, my four-year-old daughter has a growing interest (my son is already a convert), though that is still eclipsed by her love of My Little Pony. On the plus side, I now have a new specialist subject if I ever get on Mastermind.
I started working with the Hubble Space Telescope during my PhD at Cambridge and post-doctoral years at Oxford. Hubble is now 31 years old and is periodically breaking up and there is no way of servicing it. It is just a matter of time before we lose it. The Webb telescope is bigger and it observes infrared light. There are lots of good science reasons for that, but the obvious one is that we have looked at the Universe in visible light because it's easiest for us to do that. Infrared may show us something different.
A highlight of my recent career was organising a panel session online with the Royal Society, during which we talked about the legacy of Hubble, and Webb in the future. Hubble launched when I was seven. I remember seeing it on the news because there was a fault that had to be repaired by an astronaut on a space mission. That astronaut, Jeff Hoffman, was on the panel with me. I don't normally have idols, but he is one of them. I found that both inspiring and nerve wracking.
I like doing outreach work because there so many interesting ways to talk about the Universe. The formation of the elements is a neat story. The only elements that existed after the Big Bang were hydrogen and helium. Other elements were made from stars exploding or dying.Those new elements get locked into a new generation of stars – our Sun is not a first-generation star but is made from the remains of other stars. Almost all the gold in the Universe was produced when pairs of massive stars merged together and exploded. That sounds quite poetic.
A few years ago I discovered I have aphantasia, a condition which means I have no visual imagination. I can't picture an image in my head – not even the faces of my children. It feels like a disadvantage, but maybe there is a benefit. Perhaps it makes me more adventurous because I don't have an imagination to fill in the gaps. It may also mean that I'm good at analysing data as I don't get distracted by mental images.
I came to Sussex eight years ago because it was a good fit with my research. I also like that it's surrounded by a National Park. There aren't many campuses that have such nice, natural surroundings right next door. And Brighton, because it's so liberal, is a great city.
This profile is part of our This Sussex Life series.