Full features listing
"My students ask me to do magic"
By: Jacqui Bealing
Last updated: Friday, 21 September 2018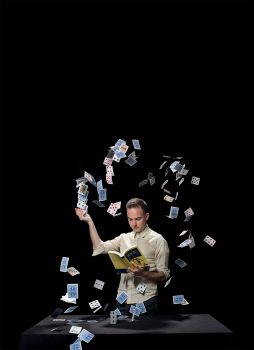 Dr Augusto Corrieri, lecturer in Drama, Theatre and Performance, talks about his book, In Place of a Show: What happens inside theatres when nothing is happening, which is being launched at Attenborough Centre for the Creative Arts on 27 September.
And he reveals the disillusionment of his alter ego Vincent Gambini, who is fresh back from the Edinburgh Fringe.
I have always been drawn to this idea of nothingness, or what we might call nothingness in theatres, because it often just means an absence of humans. It's extremely arrogant to say that nothing is happening just because certain events are beyond or below our level of perception.
In Place of a Show is about four theatres around the globe, including a European-style opera house in the middle of the Amazon jungle. It was built at the height of the rubber industry. When the industry collapsed overnight, the town was abandoned and this building started housing all kinds of things, including termites, who were eating up the theatre. You could say that's a shame, but from the termites' point of view it was a delicious feast. It's perhaps a little bit of a thought experiment to say this, but what if other species have equal access to theatres?
This is the paperback launch of the book. When we had the hardback launch in 2016, we requested that no one attend. I didn't go. I wasn't even in the country. The ACCA remained empty from seven till eight. You could carry on with your normal activities (go shopping, have a snooze, stay at home), but in that time the book would be launched. This one, which is a lecture performance, will hopefully be a bit fuller. And everyone is invited.
The mantra now is that performance can be anything. A conversation between two people can be a performance. But what I have found really interesting is how the opera house model continues to haunt performance. People will still think of red curtains and chandeliers. It's partly to do with the insistence of clichés, but it's also because this construction really captures something about human psyches.
When I was eleven I was fascinated by Michael Jackson, particularly his dancing and the illusion he created through his moonwalking. At school in Italy, where I grew up, we had a big end-of-year performance and I did a dance to 'Smooth Criminal'.
I saw David Copperfield, the American illusionist, when I was thirteen. Although I didn't go down the illusion path, I focused on close-up, sleight-of-hand magic with cards and coins. I did that throughout my teens, practising every day after school.
But the rigid conventions for presenting magic seemed so boring, the way it assumes that the person in power - the magician - is the one who knows and the spectator doesn't know. I thought there must be an avant garde of magic. I found this experimental arts college in Devon (at Dartington). I said I wanted to combine magic with theatre, and the leader of the course said you can do that here.
My alter ego is a disillusioned illusionist called Vincent Gambini. Augusto Corrieri is interested in experimental arts practice and writing and dance pieces where nothing happens. Whereas Vincent is a magician. With the support of the ACCA, the School of English and Arts Council England, I developed a show called 'The Chore of Enchantment' and took it to the Edinburgh Fringe Festival this year.
Some people in Edinburgh were calling it high-brow or intellectual magic. People would come and expect a 'Ta-da!', and then they would see this piece and some were quite puzzled, and some would get it. It's great to take people on a journey, but it's not for everyone. With all art, it's pointless to try to speak to everyone.
I came to Sussex in 2016, and my first project with the students was on animals in the theatre. So before the ACCA was officially opened we had chickens in the show, a dog, performers wearing cowbells and moving on all fours. It was a moment of, "Oh my god what is happening?"
I have never been in a play, never directed a play, and hardly ever go to see plays, which is interesting because a lot of my colleagues here at Sussex are experts in plays. I'm interested in hybrid experiments, new mangled forms, what's called the 'post-dramatic'. So there are different approaches and schools of thought. We learn a lot from each other.
My students ask me to do magic and I will occasionally satisfy that expectation. Magic is such a small, geeky pursuit that it's too specialised to teach at the moment, so we focus on 20th and 21st century experimental performance practices. In a way, magic is the visual equivalent of sweets, and I don't think that sweets are the best learning tool.