Full features listing
It's celebration time at the University of Sussex's Winter Graduation
Posted on behalf of: Lauren Ellis
Last updated: Friday, 27 January 2023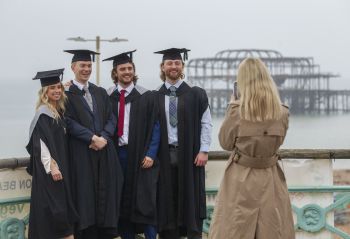 Almost 1,700 students graduated during the University of Sussex's Winter Graduation ceremonies this week at the Brighton Centre (Wednesday 25 January and Thursday 26 January). Graduates attended from over 134 countries and 4,226 guests joined to celebrate.
This was the first graduation attended by the University of Sussex's new Vice Chancellor, Professor Sasha Roseneil, who started the role in August 2022.
Professor Roseneil says: "It is a huge pleasure to preside, for the first time, over this winter's graduation ceremonies, and to mark the achievements of this year's postgraduate students. They came together to celebrate from across the city and region, from all over the UK, and from over 134 countries, gathering with the friends and families who had supported them – and each ceremony was a moving and joyful occasion. It was particularly wonderful to meet the brilliant Sussex Chevening Scholars who came to the UK from around the world to deepen their academic and professional knowledge, and who will go on to contribute greatly to their home countries.
"We wish all our students the very best in their future endeavours, and welcome them warmly into the global community of Sussex alumni."
Celebrating Sussex students
Many of the students who graduate from Sussex have been able to pursue a university degree and fulfil their potential thanks to scholarships generously funded by its alumni community and other external funders.
Among those that graduated this year was Naimat Zafary, who arrived at Sussex in September 2021 on a prestigious Chevening Scholarship. Originally from Afghanistan, Naimat and his family left their home in Kabul to flee the Taliban. Naimat, who has an undergraduate and Masters Degree from Kabul University, previously held roles at the National Environmental Protection Agency and the Ministry of Rural Rehabilitation and Development in Afghanistan. In 2013, he began working for the United Nations Development Programme, focusing on human development. Now, having completed an MA in Governance, Development and Public Policy at the University of Sussex, Naimat is continuing his studies as a PhD candidate in International Development. Naimat's family accompanied him at graduation, including his parents, wife and children.
Naimat tells us: "This has been an incredible experience and Sussex has been so welcoming and supportive to both me and my family. I am honoured to be a student here and to have graduated this year with my Masters and soon my PhD. I want to dedicate my degree to the brave and committed girls of Afghanistan fighting for an education. Education saves lives and it has saved the lives of three generations in my family."
In addition, Mayas Alcharani and Rama Almare, husband and wife on Chevening Scholarships from Syria, who collected their Masters degrees in Development Studies and Gender and Development respectively.
This graduation also saw siblings, Bridget Kauma and Maziko Chalira from Malawi graduate on the same day. Bridget, who celebrated completing a PhD in Economics and receiving a postgraduate certificate in Higher Educations says: "I started my journey at the University of Sussex in 2015 and graduated with an MSc in International Economics. The quality of education, services for international students and great career prospects is what drew me to this University. Being an international student more than 8,000 miles away from home was a challenging experience. However, the supportive community at the University of Sussex has always been there for me, from orientation to graduation. And this is why I came back for my PhD in 2018. It is simply an amazing place to study."
Seeb Dernawi spent the early part of her life in Liverpool before moving to Horsham when she was 11 years old. Going to University was always part of Seeb's plan and during this year's Winter Graduation, she celebrated completing her Masters in Marketing and Consumer Psychology.
"I've been part of the wider Sussex community most of my life so deciding to go to the University of Sussex was an easy choice. After completing my BSc in 2021, I went straight into completing my Masters. My course was great and Sussex is the only place I could study marketing and consumer psychology specifically. It's been an amazing experience and I'm thrilled to now have a Masters too."
Sussex's local heroes
During the ceremonies, Professor Roseneil and the University also celebrated two local heroes. This included the University's honorary graduate Andy Winter, who is the Chief Executive Officer of the Brighton housing trust, BHT Sussex. Andy was born and grew up in South Africa before moving to Brighton in 1979 at the age of 19. Andy made a life in Sussex and was recognised for the huge contribution he has made to the Brighton community through his philanthropic work.
Professor Roseneil also awarded Rustom Tata, Partner and chair of DMH Stallard LLP, with a University of Sussex Fellowship. Rustom is a Sussex alum who has volunteered at the University for many years and who helped to set up the University of Sussex pro bono Law Clinics, which offers free legal advice to people from the local area.
To support the University's goal to be one of the most sustainable universities in the world, two of the University's own local heroes, students Tim Merritt and Daniela Valenzuela, have established the Trees for Graduates project. Born from the Pitch for the Planet 2022 competition, the pair's goal is to plant a tree for every graduating student as an analogy of the growth that starts when they complete their degree. Family members can gift a tree to leave a legacy in a student's name and the trees will be planted around water courses to increase biodiversity and improve water quality in Sussex.
To make this happen, the team have partnered with another Sussex student initiative, Wilding Network, who work with local farmers, landowners and communities to establish wildlife corridors.
Tim Merritt says: "Graduation is a time to celebrate achievements and for many it's about moving on to the next chapter and bidding farewell to Sussex. Having a tree planted locally is a great way to recognise your time here and give back to the community."
A message from the Chancellor, Sanjeev Bhaskar
The University of Sussex's Chancellor, Sanjeev Bhaska sent a message to all graduates to celebrate their time at Sussex. In it, he explains that graduating and completing a degree is a testament to an individual's hard work, determination and commitment.
Sanjeev told graduates: "You are always part of the Sussex community, who are kind of like an extended family. As you go on to create change in the world, remember that you are forever Sussex."