Members of Informatics - both staff and students - look for opportunities to put their scientific results, technology and know-how to practical use.
We do this in a number of ways: through externally-funded applied research projects, consultancies, student projects, and start-up and spin-out companies.
Applied research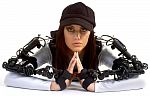 We have worked with Animazoo Ltd to produce an affordable motion capture suit, suitable for everyday use at home while still providing highly accurate and reactive monitoring of all upper-body movement. This applied research project was funded by Innovate UK, under an initiative to support research and development in the creative industries and facilitate technology transfer from universities to companies.
In another project, we worked on 'digital repatriation' of cultural artefacts, in partnership with researchers at University College London, the British Museum, Brighton Museum & Art Gallery, Glasgow Museums, and institutions in Sierra Leone. We created a digital heritage resource that utilizes social networking technologies to reconnect objects with communities of people who have been displaced from their origins. This research supported the development of the Sierra Leone Heritage website.
Consultancies

We carry out consultancies with companies and organisations as diverse as Motorola, Unilever, the Department of Health, and The Victoria & Albert Museum. For the V&A, we a created a 3D digital reconstruction of the Santa Chiara Church, Chapel and Altar as it was in renaissance Florence, along with a number of interactive experiences that deploy the digital reconstruction.

One of our consultancy contracts contributed to the development of an automatic system for analysing opinion in large amounts of online text, which was deployed by Thomson Reuters. This allows their customers to analyse news across thousands of companies far more quickly than can be done by humans.
Student projects
We regularly supervise industrially-focussed doctoral projects, funded through studentships. BT and Motorola have contributed doctoral studentships, and a number of other companies and organisations such as the CCFRA (a food research association), Ordnance Survey, Future Platforms, and Vero Technologies have sponsored doctoral students under Industrial CASE schemes.
Industrial Advisory Board members propose project topics and provide supervisory support for MSc and final-year undergraduate projects.