There are opportunities for both long and short term placements within our engineering and design degrees which is why we have a dedicated team to support you. Spending a year in industry will significantly boost your competitive edge for securing the job of your choice, whilst also providing valuable industry experience and insight for your final year at Sussex. It really is a fast track to your career - all of our recent placement students have secured jobs within six months of graduating.
Industrial/ Professional Placement Year
The Product Design (with an industrial placement year) BSc degree course allows you to gain valuable experience for your future career while working in industry during your third year.
All Engineering courses have an optional industrial placement year assessed as an integral part of the course, leading to the award 'Course name with an Industrial Placement Year'. Here are a few views from previous placement students.
The Careers and Employabilty Centre has more information on the companies and support on offer for professional/ industrial placement years.
Student placement experience - Ryan Oakley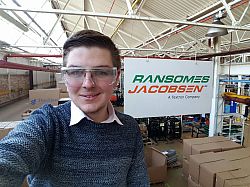 Pre-Placement:
I've never been sure what position within engineering I would be best suited for, by doing a placement year it gives me a chance to find out more about different roles within an organisation. It will also give me the chance to apply what I have been learning over my 4 years at Sussex, and really push and challenge myself to think on my feet. Trying to solve problems which I would otherwise never face during my time at University.
As I am doing a masters course I applied to companies from the start of my 3rd year, however I started preparing my CV and doing interview preparation at least 6 months beforehand, with help from the University's careers and employability centre who were incredibly helpful.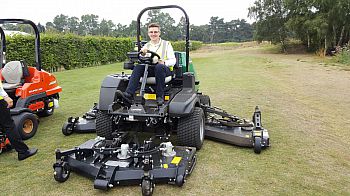 I applied to Ransomes Jacobsen, having spoken to them at the University's careers fair, I was contacted and offered a spot at one of their assessment centres. This involved: a tour of their facilities followed by a group presentation about what we had seen and where they could improve, an engineering test and an extended interview. I decided it was an extremely promising opportunity, as it was a small company that made nearly all their own parts, allowing me to gain some knowledge of machining, welding, electrostatic painting and several other material processes.
Over this year I hope to gain an understanding of how a small volume, high complexity assembly line works, as well as putting practical knowledge to the theoretical work I have done over my time at University.
Ryan Oakley - MEng Mechanical Engineering
Student placement experience - Max Felton
'For my industrial placement as Sussex, I worked as a Design Engineer at Triumph Motorcycles. I was thrown straight into a small design team, working on the design and production of the latest Speed Triple model. As a bike enthusiast, it was a huge kick seeing through my own components and modifications, from initial CAD mockups, rapid prototyping and track testing, all the way through to final fit and assembly to the bike on the line.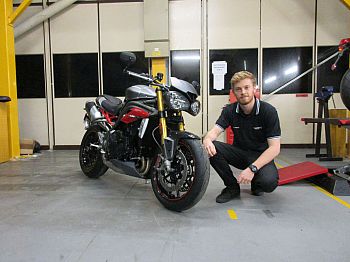 With no hand-holding or student side-projects, I was fully expected to fulful the role of a fully qualified design engineer; giving an accurate representation of what is expected of me after graduation. I was taking on vast amounts of knowledge and information daily; picked up both from the high-intensity projects and the experienced workforce around me, who were always willing to share their valuable know-how.
The placement year taught me a vast range of skills, more than I expected to gain from a years experience. Intense training programs taught me an inside-out knowledge of CAD software, and regular technical drawing release enabled me to produce high-quality technical documents fully compliant with British Standards; skills which will prove invaluable for my final years at university, and my future career.
A year in placement puts you in an extremely strong position after graduating, as you not only have the qualifications and the academic knowledge, but you also have the relevant industry experience, a trait that definitely gives you the edge when starting your career. On top of that, placement students are regularly given graduate job opportunities;- peace of mind you have a job secured after your studies are over.
I genuinely enjoyed my experience on placement, and couldn't recommend it enough.'
Maxwell Felton - Mechanical Engineering
Student placement experience - Thomas Westwood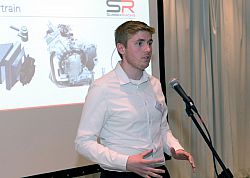 "I felt that taking a break from studies, between my third year and Masters, to work as a professional engineer would allow me to gain further experience prior to applying for a graduate position. The knowledge gained from the placement could also be applied to the Masters project, and would also provide a more rounded University experience which will benefit me during post-graduation applications. So far during my placement, I have been involved in developing components for surgical machinery (E.G, electro-surgery units, operating theatre tables, autoclaves, etc.), and also in rectifying parts that are currently in circulation but are not performing to sufficient standard."
Thomas Westwood - Mechanical Engineering
Student placement experience - Dorota Biniecka

"I think having the possibility of completing a placement year as part of a degree is invaluable. Looking back at myself and fellow students who took this opportunity, progress that can be made even after a few months spent working within a professional environment seemed unimaginable.You become more mature, more confident, with a higher sense of responsibility. You also get a chance to apply the knowledge gained at University, and then progress from there.
During the placement there might be quieter days but usually it is a steep learning curve. Moreover, you can really identify your strengths and career path you would like to follow. The skills gained in the work environment benefit highly when going back to the final year, choosing the topic of your thesis and then managing its progress. What more important, it is possible that the placement company will be interested in supporting you with your final year project, or the relationship may result in an employment after graduation. And even it that is not the case, placement experience makes the transition from university to employment easier... more natural. That is because placement prepares you for the working life, for the application and interview process, for interacting with other professionals."
Dorota graduated with a First Class honours and is now working as a designer at Bonzer Kitchen Products in Uckfield, East Sussex.
Dorota Biniecka- Product Design
Career-related summer placements

Vacation work is not just about making money. Any kind of work experience says something about you as a person and potential employee, and will enhance your future employment prospects. Career-related vacation work does the same, only more so. In addition, it offers other advantages such as finding out whether you really like a particular kind of work or company before you graduate. For more information visit our Careers and Employability Centre.