CORTH Spring/Summer 2022 events:
5th April, 4-6pm: Chai Pe Charcha: A roundtable discussion on the recent state election results in India
31st May 2:30-3:45pm: Book launch for Anthropologies of Global Maternal and Reproductive Health: From Policy Spaces to Sites of Practice.
Join us to celebrate the launch of this landmark edited volume, to which CORTH co-director, Prof. Maya Unnithan, has contributed.
More details on the Eventbrite page and poster (click on the front cover image for the Open Access ebook).
CORTH co-sponsored event:
9th June 10am-1:30pm: '(Un)safe to be me? Exploring the rights and lived experiences of LGBTI people in the UK', co-hosted CORTH event with The Human Rights Implementation Centre, University of Bristol.
This interdisciplinary half-day conference, organised by CORTH co-director, Dr Maria Moscati, will explore the legal, social and political rights of LGBTI people in the United Kingdom.
More details on the Eventbrite page.

CORTH Events Autumn 2021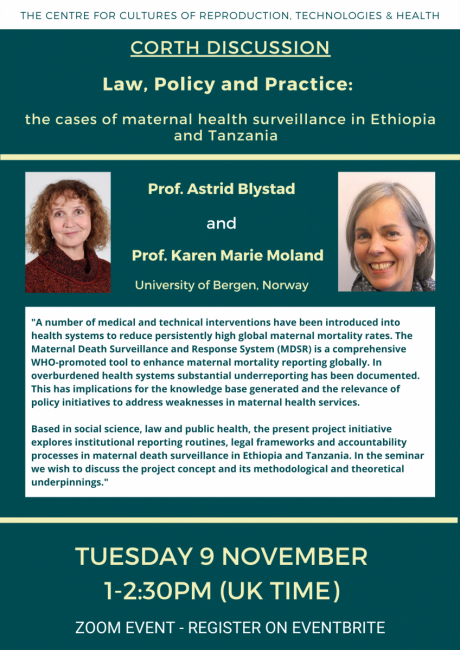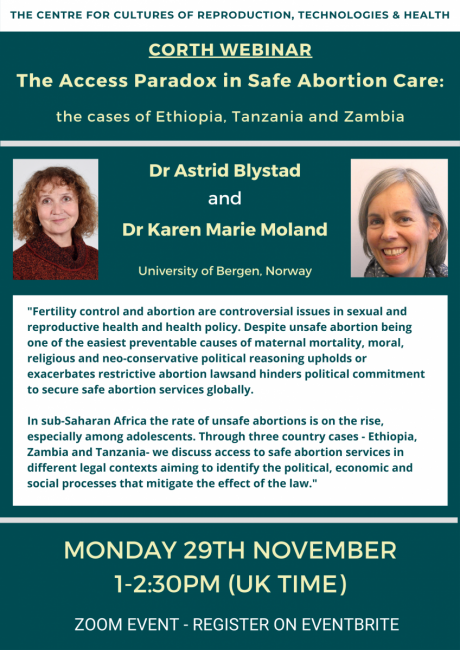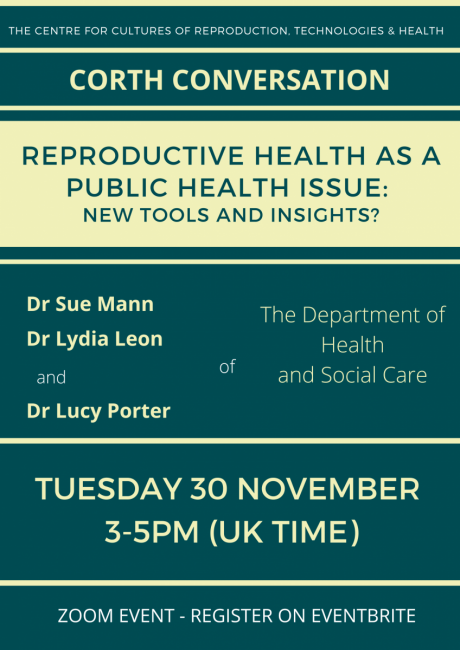 CORTH Seminar
Conditional Fertility: Multispecies Kinship, Care and Community
Wednesday 12 May, 4pm
Speaker:
Katharine Dow, Senior Research Associate and Deputy Director, Reproductive Sociology Research Group (ReproSoc), University of Cambridge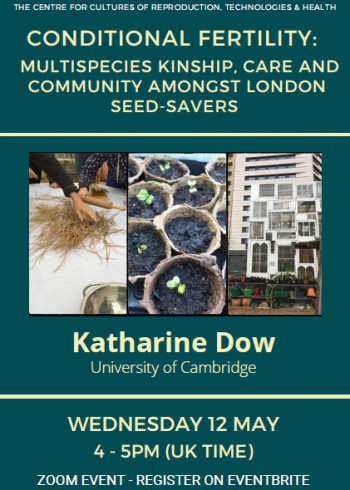 CORTH Seminar
Reproductive Democracy and Abortion Law Reform in Argentina
Wednesday 17 February, 5-6.30pm

Speaker: Paola Bergallo (Universidad Torcuato Di Tella)

Discussant: Alicia Ely Yamin (Harvard Law)

CORTH welcomes Paola Bergallo to discuss her work on abortion law in Argentina and their recent landmark victory for abortion rights.

Register here

Recording available here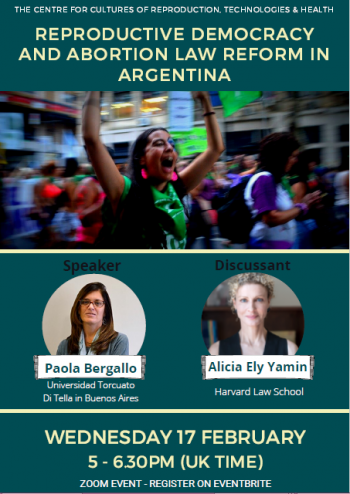 CORTH Workshop
Building Therapeutic Relationships Online: How clinical interactions are changing as sexual reproductive health care goes digital
Friday 29 January, 9am-4pm

Co-organised by Dr Paula Baraitser & Prof Maya Unnithan