How to be involved with CORTH
Join CORTH | Stay updated with CORTH news
If you would like to join and/or get the latest news from the Centre, please fill in your contact informationand select the appropriate checkbox (to follow) below:
Postdoctoral research applications
For postdoctoral researchers who wish to be based at CORTH please email a statement of your proposed research, a brief CV (no more than two pages) and the names of two referees. While we are unable to fund your time with us, we are happy to provide an institutional base and mentorship for you to apply for funding. If applying for external funding please note that some of your time will be spent assisting with Centre activities and needs to be explicitly stated in your application.
Visiting doctoral researchers
CORTH is able to offer one bench fee-waiver per term on a first come first serve basis for UK, EU and international doctoral students to visit for one academic term. Visiting students will have the opportunity to develop their research with CORTH mentors, take a proactive role in organising CORTH events based on their individual research interests, and support the Centre's work. Further information about the opportunities of joining CORTH can be found in the testimonials below.
CORTH experiences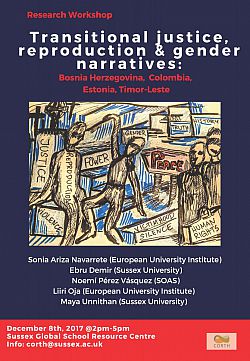 Liiri Oja
PhD Candidate in Law, European University Institute
I spent the autumn semester of 2017/2018 at CORTH as a visiting early career researcher funded by the European University Institute. My PhD thesis explores power and gender narratives in transnational reproduction jurisprudence. I was looking for a setting where I could do more than just use the library and attend some seminars, but to actually engage actively with the university's research community, introduce my work to different audiences, and learn new ways of thinking about human rights and reproduction. CORTH exceeded all my expectations. I presented my ongoing research several times, helped out with developing CORTH's online presence as a forum for connecting scholars around the world, organised a research workshop, and had endless inspiring discussions about my work with CORTH members. I cannot thank Maya Unnithan and Maria Moscati enough for having me, being so generous with their time, and getting me involved from day one!
For further information about term dates at the University of Sussex see: Term dates