New Visiting Fellow - Professor Randolph B. Persaud
By: Eve Wilcox
Last updated: Wednesday, 12 January 2022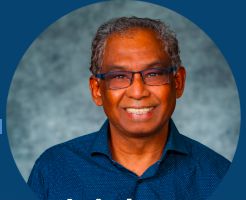 Dr Randolph B. Persaud is Associate Professor of International Relations at the School of International Service, American University, Washington D.C. He works on race and IR, critical political economy, security studies, and the Caribbean. His is author of Counter-Hegemony and Foreign Policy (2001); co-editor with Alina Sajed of Race, Gender, and Culture in International Relations, (2018); and Co-editor with Naren Kumarakulasingam, of Violence and the Third World in International Relations, (2019).
He has also published in Alternatives, Third World Quarterly, Cambridge Review of International Affairs, Globalizations, Race and Class, Latin American Politics and Society; Connecticut Journal of International Law, Millennium; Journal of Diplomacy and International Relations; Korea Review of International Studies, Foreign Policy, Journal of Narrative Politics, and International Politics Reviews. Dr Persaud was recently appointed an Academic Editor of Third World Quarterly.
He is currently writing a biography of Walter Rodney.