Current, recent and past events associated with the Centre
2020 Sussex International Theory Prize Lecture


*Recording now available here*
Wednesday 17 Mar 6pm

Celebrating our 2020 prize winner: Inés Valdez, 2019. Transnational Cosmopolitanism. Kant, Du Bois, and Justice as a Political Craft
Please register here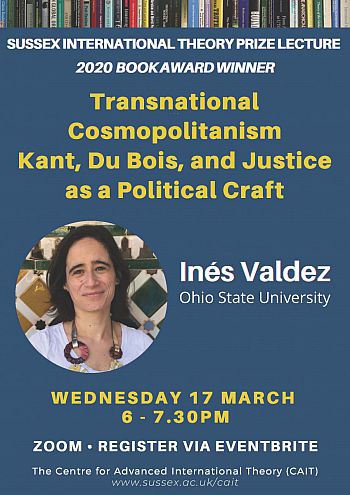 Sussex International Theory Lecture 2021

*Recording now available here*

Tuesday 23 Feb 6pm
Mahmood Mamdani (Columbia) will be discussing his recent book 'Neither Settler nor Native: The Making and Unmaking of Permanent Minorities'.
Register here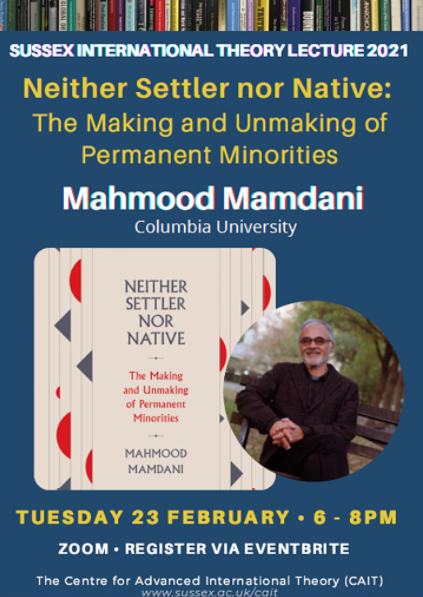 2021 Sussex Annual Symposium


*Recording now available here*
Our 2021 Sussex Annual Symposium will celebrate the 25th anniversary of Siba Grovogui's pathbreaking book Sovereigns, Quasi Sovereigns, and Africans: Race and Self-Determination in International Law (University of Minnesota Press).
There will be a panel on 22 January 2021, 4-6pm, which is open to all.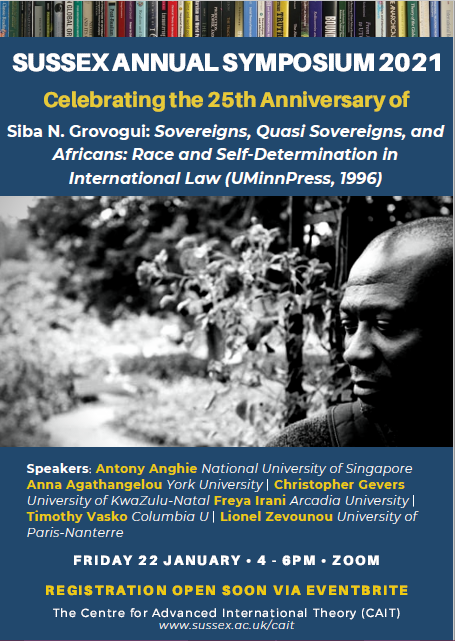 Panellists: Antony Anghie (National University of Singapore), Anna Agathangelou (York University), Christopher Gevers (University of KwaZulu-Natal), Freya Irani (Arcadia University), Timothy Vasko (Columbia University), Lionel Zevounou (University of Paris-Nanterre)
Register for the panel discussion via Eventbrite: https://bit.ly/3gBS4Sq
There will also be a workshop only open to the Sussex community on 21 January, 3-5pm. For further information please email cait@sussex.ac.uk.
Link to read the book: https://bit.ly/3gEjur5
BOOK LAUNCH WEBINAR

*Recording now available here*
Out of Time: The Queer Politics of Postcoloniality
Rahul Rao (SOAS)
Wednesday, 2 December 2020, 3pm
Rahul Rao (Politics and International Studies, SOAS) is the author of Out of Time: The Queer Politics of Postcoloniality (2020) and Third World Protest: Between Home and the World (2010), both published by Oxford University Press. He is currently writing a book on the politics of controversial statues. He is a member of the Radical Philosophy collective and blogs occasionally at The Disorder of Things. He has research interests in international relations, postcolonial and queer theory, gender and sexuality, and South Asia.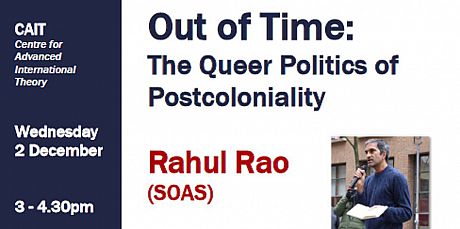 About the book: Between 2009 and 2014, an anti-homosexuality law circulating in the Ugandan parliament came to be the focus of a global conversation about queer rights. The law attracted attention for the draconian nature of its provisions and for the involvement of US evangelical Christian activists who were said to have lobbied for its passage. Focusing on the Ugandan case, this book seeks to understand the encounters and entanglements across geopolitical divides that produce and contest contemporary queerphobias. It investigates the impact and memory of the colonial encounter on the politics of sexuality, the politics of religiosity of different Christian denominations, and the political economy of contemporary homophobic moral panics.
Recording available now on Youtube: https://youtu.be/evzhhHnzlX0
WEBINAR
Anticolonial Afterlives in Egypt: The Politics of Hegemony
Sara Salem (London School of Economics)
Thursday, 19 November 2020, 3pm
Sara Salem is an Assistant Professor in Sociology at the London School of Economics. Her research interests include political sociology, postcolonial studies, Marxist theory, and global histories of empire and anticolonialism. Her recently published book with Cambridge University Press is entitled Anticolonial Afterlives in Egypt: The Politics of Hegemony (2020). A selection of published journal articles include: on Angela Davis in Egypt in the journal Signs; on Frantz Fanon and Egypt's postcolonial state in Interventions: A Journal of Postcolonial Studies; on Gramsci and anticolonialism in the postcolony in Theory, Culture and Society; and on Nasserism in Egypt through the lens of haunting in Middle East Critique.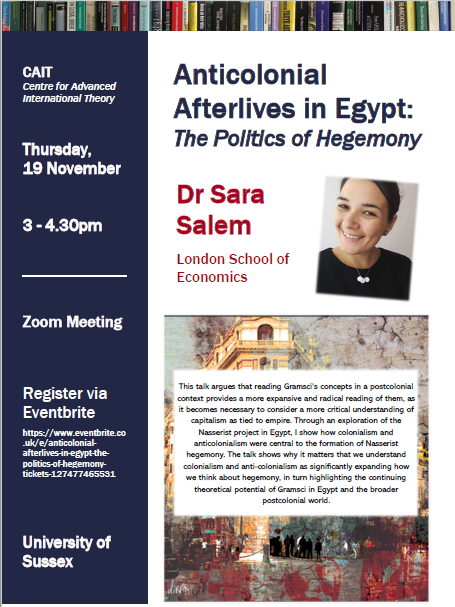 This talk argues that reading Gramsci's concepts in a postcolonial context provides a more expansive and radical reading of them, as it becomes necessary to consider a more critical understanding of capitalism as tied to empire. Through an exploration of the Nasserist project in Egypt, I show how colonialism and anticolonialism were central to the formation of Nasserist hegemony. The talk shows why it matters that we understand colonialism and anti-colonialism as significantly expanding how we think about hegemony, in turn highlighting the continuing theoretical potential of Gramsci in Egypt and the broader postcolonial world.
WEBINAR
On Geographical Privilege and Visceral Agitation: A Southern View on Drone Warfare
Sabiha Allouche (University of Exeter)
Wednesday, 28 October 2020, 4pm
Sabiha Allouche is a Lecturer in Middle East Politics at the University of Exeter. Sabiha is dedicated to producing decolonized knowledge and to rethinking sexed and gendered regimes in the MENA. She has published work in the Journal of Middle East Women's Studies and in the International Journal of Middle East Studies. She is on the advisory board of the Beirut-based peer-refereed journal Kohl: A Journal in Body and Gender Research.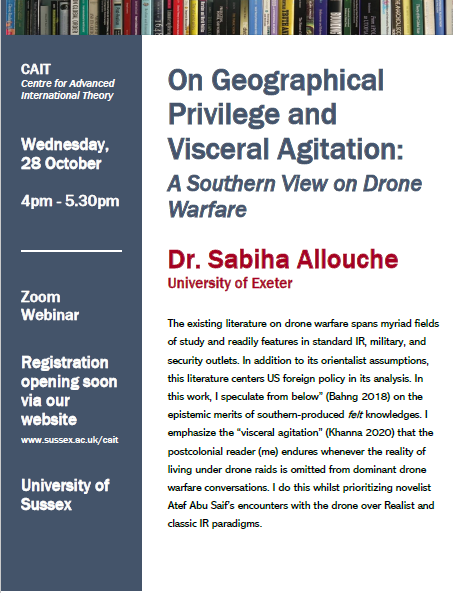 The existing literature on drone warfare spans myriad fields of study and readily features in standard IR, military, and security outlets. In addition to its orientalist assumptions, this literature centers US foreign policy in its analysis. In this work, I speculate from below" (Bahng 2018) on the epistemic merits of southern-produced felt knowledges. I emphasize the "visceral agitation" (Khanna 2020) that the postcolonial reader (me) endures whenever the reality of living under drone raids is omitted from dominant drone warfare conversations. I do this whilst prioritizing novelist Atef Abu Saif's encounters with the drone over Realist and classic IR paradigms.
BOOK LAUNCH WEBINAR


*Recording now availablehere*
(B)ordering Britain: Law, Race and Empire
Nadine El-Enany (Birkbeck)
Wednesday, 14 October 2020, 3pm


Co-Sponsored by the Department of International Relations, University of Sussex.
Nadine El-Enany teaches at Birkbeck School of Law and co-directs the Centre for Research on Race and Law.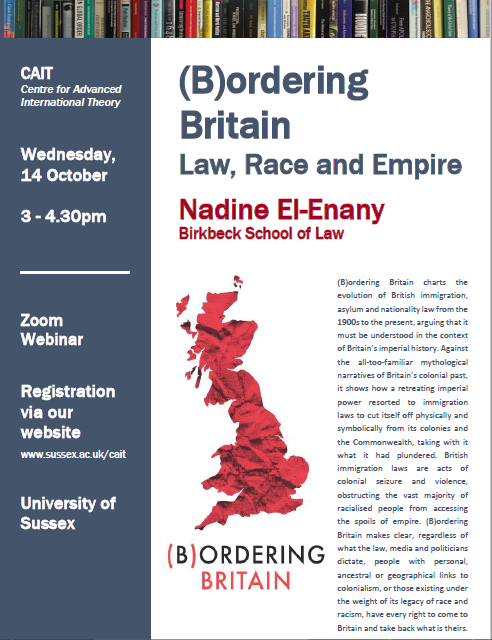 (B)ordering Britain charts the evolution of British immigration, asylum and nationality law from the 1900s to the present, arguing that it must be understood in the context of Britain's imperial history. Against the all-too-familiar mythological narratives of Britain's colonial past, it shows how a retreating imperial power resorted to immigration laws to cut itself off physically and symbolically from its colonies and the Commonwealth, taking with it what it had plundered. British immigration laws are acts of colonial seizure and violence, obstructing the vast majority of racialised people from accessing the spoils of empire. (B)ordering Britain makes clear, regardless of what the law, media and politicians dictate, people with personal, ancestral or geographical links to colonialism, or those existing under the weight of its legacy of race and racism, have every right to come to Britain and take back what is theirs.
Annual CAIT Book Symposium

Thursday 20 February from 14:00 until 17:00
Fulton 113
CAIT Spring Term Events 2020
EVENT CANCELLED
Is IR Theory White? Racialised subject-positioning in Waltz, Keohane and Wendt

Wednesday 12 February from 15:00 until 17:00
Arts C333
CAIT Spring Term Events 2020
Dr Meera Sabaratnam (SOAS)
This article develops a methodology for the identification of whiteness in IR theory. Racism is a historically specific structure of modern...
"A Strange Industrial Order:" Indonesia's Racialized Plantation Ecologies and Anticolonial Estate Worker Rebellion

Thursday 6 February from 15:00 until 17:00
Global Studies Resource Centre, Arts C175
Sussex Rights and Justice Research Centre events
Dr Lisa Tilley, Birkbeck, University of London
Everyone is welcome
Panel: Re-Thinking IR (and its Syllabus) anticolonially

Wednesday 11 December from 15:00 until 17:00
Jubilee building JUB-144
Centre for Advanced International Theory events
Dr. Nivi Manchanda (Queen Mary) and Dr. Olivia Rutazibwa (Portsmouth)
Resisting Racial Militarism | On the Ruins of Epistemicide
EVENT CANCELLED:Black Power's Technology Question:Fully Luxury Automated Communism or Survival Pending Revolution?

Monday 2 December from 12:00 until 14:00
Fulton 101
CAIT Autumn Term Events 2019
John Narayan (King's College London)
EVENT CANCELLED
EVENT CANCELLED: Gramsci and anticolonial theory: The radical potential of hegemony in the postcolony

Thursday 28 November from 12:00 until 14:00
Fulton 203
CAIT Autumn Term Events 2019
Dr Sara Salem (LSE)
EVENT CANCELLED
Book launch: Colonial Finance and Financial Sovereignty

Tuesday 19 November from 15:00 until 17:00
Arundel 211
CAIT Autumn Term Events 2019
Hicham Safieddine (King's College London)
Joint with CGPE.
CAIT Abstracts Workshop

Thursday 14 November from 13:00 until 15:00
Fulton 202
CAIT Autumn Term Events 2019
Centre for Advanced International Theory (CAIT).
Climate Leviathan: A Political Theory of our Planetary Future - CAIT Prize lecture

Monday 4 November from 17:30 until 19:30
Fulton A
CAIT Autumn Term Events 2019
Prof Joel Wainwright, Ohio State University (Department of Geography)
CAIT Prize Lecture Joel Wainwright will discuss his co-authored (together with Geoff Mann) research monograph: 'Climate Leviathan'.
Climate Leviathan: A Political Theory of our Planetary Future - Workshop

Monday 4 November from 14:00 until 16:00
Fulton 203
CAIT Autumn Term Events 2019
Workshop: Sussex International Theory Prize