Choose from a range of courses with a professional placement year. This means you can substantially improve your employment prospects by gaining valuable career skills, insight and work experience at a top company before you graduate.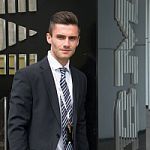 'I can't recommend a placement year highly enough. It's been the most valuable experience of my life, and it has had a huge impact on my career. It's an opportunity to build skills and identify your career path while putting you one big step ahead of everyone else looking for work after university.'
Ryan Goodchild
Business and Management Studies (with a professional placement year) BSc
Ecosystems Sales and Operations Analyst, IBM
As an undergraduate student with our School, you can choose to do paid work for a year as part of your course, in between your second and final year at Sussex. By doing a placement, you can put the knowledge from the first two years of your course into practice, and you can then apply valuable experiences gained in industry to your final year of study.
Why a placement?
Because we develop our courses with industry needs in mind, a placement year is the perfect opportunity to put your studies into practice, gaining career skills before you graduate and developing links with top graduate employers.
Placement opportunities
Whatever your career interests, we can help you. Our School has its own award-winning placements team who will support you in every step of your placement experience.
Sussex is located close to the City of Brighton & Hove and an hour from the City of London. Plus, we have established links with organisations all over the world, in sectors ranging from banking and financial services to media and marketing. Browse our logo grid below to see a sample of the organisations that our students have recently had placements with.
Because of our international perspective and connections, you may be able to do a placement with a multi-national organisation or at a company in another country.
Discover our international perspective
Internships and careers support
Your career development is supported throughout your time at Sussex by the Careers and Employability Centre.
You have lots of opportunities to get work experience during your degree, such as:
funded summer internships, including our China Internship scheme
work shadowing
volunteering
support to find part-time work while you study.
Find out about the careers support and other student support available to you at Sussex
---
EFMD Highered Global Talent Portal
As a member of the European Foundation for Management Development (EFMD), the School offers all of its students access to the EFMD Highered Global Talent Portal.
The portal puts students at 150 business schools in touch with over 75 global organisations recruiting to placement, internship and graduate roles.
As well as international job searches, you get access to online assessments and other useful information on how to boost your employability and create a successful application.