Business School
Find out how to use our brand for University of Sussex Business School communications.
Contents
The University of Sussex Business School has its own sub-brand logos and identity guidelines. These have been created for the exclusive use of the Business School and should not be used by any other part of the University.
Find out about:
---
Business School logo
The University of Sussex Business School logo is a fundamental component of all Business School communication.
To maintain a strong and consistent visual identity, it must be reproduced correctly at all times.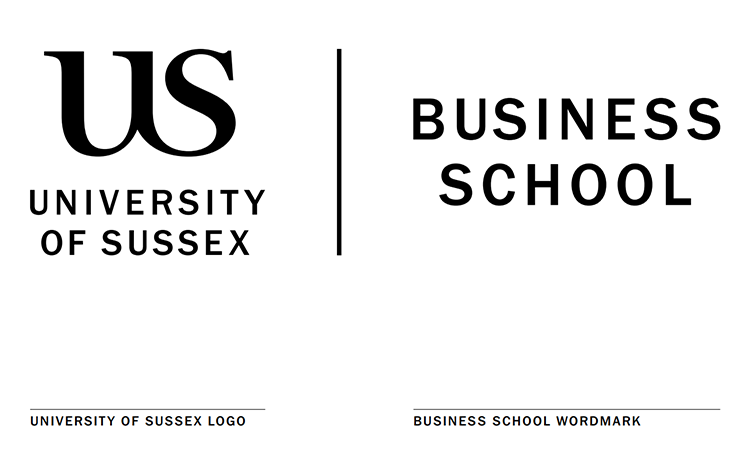 The logo is made up of two elements: the "University of Sussex" logo and the "Business School" wordmark, separated by a dividing rule to unify both elements into a robust stand-alone mark.
The logo proportions have been carefully considered to create a balanced visual arrangement and maximise legibility.
Never attempt to recreate the logo. Instead always use the supplied files.
There are specific Business School naming conventions in our house style.
---
Letterheads and business cards
If you work for the Business School, you have specific letterheads.
Download our:
Contact the Print Unit or email printunit@sussexestatesfacilities.co.uk to order business cards, compliments slips and pre-printed letterheads.
---
Presentations
There are PowerPoint presentation templates for the Business School.
Download the:
Attend a presentation course
There are courses available at Sussex to help enhance your presentation skills.
ITS runs PowerPoint software courses and Technology Enhanced Learning put on workshops and webinars.
---
Email signature
If you're in the Business School, use the correct email signature.
Get the Business School email signature.
---
Guidelines for designers
If you're working with the Business School to create branded communications, see our guide to arranging elements.
It covers:
using and positioning the Business School lock-up logo
structuring print products in the Business School style
correct co-branding with external partners.
It also details the design of:
business cards
letterheads
email signatures
branded images for social media.
Download Business School design guidelines [PDF 2.3MB].
---
Other guidelines
The main University of Sussex brand guidelines also apply to the Business School. These include the use of colours, fonts, photography, video and print elements.
The Attenborough Centre for the Creative Arts has its own separate logo and brand style guide.
The UK Trade Policy Observatory is a collaboration with Chatham House and has its own separate logo.
All other Schools, departments and units come under the University of Sussex brand.
Communicating using the Sussex brand identity maximises the reach of your work and builds on the strengths of our collective effort.
Contact us
Digital and Creative Media
Bramber House, fourth floor
University of Sussex
Brighton BN1 9QU
---
You might also be interested in: