Making walking groups inclusive for people with impaired vision
By: Stephanie Allen
Last updated: Wednesday, 12 December 2018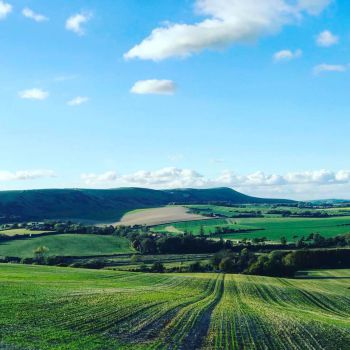 An anthropologist at the University of Sussex has contributed to a set of guidelines detailing best practice to make walking groups inclusive for those with impaired vision.
Dr Karis Jade Petty, Lecturer in Anthropology and International Development, worked with Dr Sarah Bell, who is conducting the Sensing Nature project at Exeter University, as well as organisations Walking for Health and British Blind Sport to produce guidelines which are now widely available online.
Designed to support and enable those with impaired vision to take part in group walking activities, Dr Petty is hopeful that the guidance will give walking groups the tools to welcome walkers who have impaired vision, supporting opportunities for everyone to enjoy being outside in nature.
She said: "We're really hoping that people leading the 375 active Walking for Health initiatives in the UK and other organisations will not only be encouraged by these guidelines but will also be able to use them practically to open up walks for those with impaired vision."
The guidelines outline a wide range of eye conditions, from glaucoma to diabetic retinopathy, to assist walk leaders in understanding the diversity of sight conditions whilst also encouraging them to not make assumptions about people's sight or the ways in which they might be facilitated in joining a group walk.
Suggestions to make guided walks more inclusive include guidance on key features to be aware of while route planning and guiding, from obstacles underfoot, presence of livestock, overhanging trees and foliage to weather conditions. It also provides suggestions on how walk leaders might best invite local members of their community who have impaired vision to join their walking schemes through relevant charities and organisations. Further, the guidance provides suggestions on how you might volunteer as a sighted guide.
Dr Petty, who is also a trained Walk Leader and Sighted Guide for Walking for Health, researches how those with impaired vision perceive and experience the South Downs landscape in particular.
She said: "Walking the South Downs landscapes with companions as their sighted guide as part of my research has been an incredible experience and it is exciting to collaborate in creating these guidelines so that others may enjoy the countryside.
"These guidelines are not only intended to create new, accessible routes, although that would be welcome, but also to encourage those guiding on existing routes to consider the inclusivity of walkers with impaired vision. We want group walks to be more inclusive and we hope, as a result of our work, that more people will be able to get out and enjoy the world around them."
You can read the guidelines on the Walking for Health, British Blind Sport or the Sensing Nature website.
To learn more about Dr Petty's research or ask questions, you can connect on Twitter or her website www.karisjadepetty.com.