Theatre and attitudes: Using performance to address social inequality
By: Stephanie Allen
Last updated: Monday, 8 October 2018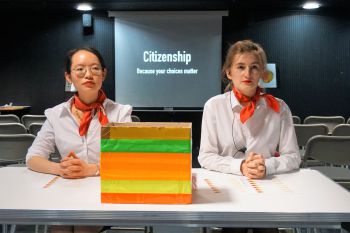 Theatre is being used to provoke discussions on inequality and exclusion in a project run in collaboration between Dr Nigel Eltringham, Reader in Anthropology at the University of Sussex, and Dr Shana Swiss and Professor Paul Heritage of the People's Palace Projects, a research centre in the Drama Department at Queen Mary University of London.
Stages, directed by Shana Swiss and supported by the Peace Development Fund and National Lottery Awards for All, is a practice-based enquiry into how performance can be used to stimulate reflection on 'othering' processes that lead to discrimination, violence and social exclusion.
The project enables people to experience the power that theatre has to clarify issues, challenge attitudes and develop solutions. It also aims to develop citizen activism and community engagement with decision makers and power holders, while increasing the understanding of the processes that lead to exclusion and those that mobilise behaviours that challenge discrimination and embrace difference.
Having spent 20 years researching the aftermath of the 1994 Rwandan genocide, Dr Eltringham is interested in the role theatre can play in alerting audiences to the surreptitious presence in the UK of attitudes and processes characteristic of genocide. He is collecting research data during the devising, rehearsal and performance of the dramatic pieces.
Project Director Dr Swiss said: "Dr Eltringham's ideas and suggestions have been of great value for Stages since its early days. We are looking forward to having him as an official partner on this project. His extensive experience as a researcher in the field of anthropology and human rights brings an important contribution that supports our goal of encouraging activism among young citizens."
Each performance in the project uses 'The Ten Stages of Genocide' model, developed by Greg Stanton of Genocide Watch, as a catalyst for dramatic content. The model presents the risk factors of genocide as a process with phases that can be identified early, challenged, resisted and interrupted.
Using this model, groups collaboratively create performances that address inequality and social exclusion, reflecting local realities and sparking conversation.
The first performance for the project, Stage 3, devised by students from Queen Mary University working with theatre director Dr Canan Salih, premiered in July 2018 at Rich Mix (Bethnal Green) as part of 'Tafahum', an Erasmus-Funded project in Tower Hamlets which brings young people and decision makers together to address concerns for the community.
Just ten minutes long, the play addressed the process of being categorised based on race, age and socio-economic background, placing participants in positions that question their perceptions of power and powerlessness. The production was strongly linked to young people's sense of belonging and citizenship rights.
Dr Eltringham said: "The response to the performance was extraordinary, acting as a catalyst for a 'long table' discussion on racism with honest contributions from teenagers, parents, community police officers and other members of the community."
Stage 3 will be performed next in Brighton (14 October), Dover (20 October), and Hastings (3 November) as part of Safe Passage's Our Turn campaign, whose goal is to resettle 10,000 child refugees in the UK over the next 10 years. This initiative was inspired by the 80th anniversary of the Kindertransport, when Britain rescued 10,000 Jewish children from Nazi Europe on the eve of WWII. Further performances are planned in Harwich, Southend-on-Sea, and London.
For more information, visit http://www.peoplespalaceprojects.org.uk/en/projects/stages/