Sussex academic elected to prestigious British Academy fellowship
By: Alice Ingall
Last updated: Friday, 27 July 2018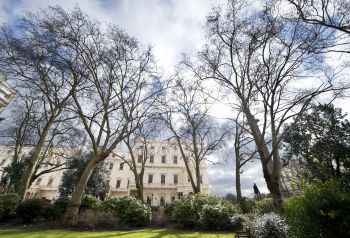 Professor of Social Anthropology at the University of Sussex, James Fairhead, has been made a Fellow of the prestigious British Academy for the humanities and social sciences.
Professor Fairhead – who has been elected in recognition for his work in the field of environmental anthropology – is among 76 distinguished scholars to be elected to the fellowship.
They join the British Academy, a community of over 1,400 of the leading minds that make up the UK's national academy for the humanities and social sciences. Current Fellows include the classicist Dame Mary Beard, the historian Sir Simon Schama and philosopher Baroness Onora O'Neill, while previous Fellows include Sir Winston Churchill, C.S Lewis, Seamus Heaney and Beatrice Webb.
This year marks the largest ever cohort of new Fellows elected to the British Academy for their distinction in the humanities and social sciences. A total of 76 world-leading academics have been elected from universities across the UK and around the world.
Professor Fairhead said: "I'm very honoured to have been elected as a Fellow, and excited to be able to contribute more to the Academy's wide-ranging support of the social sciences and humanities and to new generations of scholars.
"Working with colleagues at Sussex and the vibrant anthropology and international development departments in our fantastic School of Global Studies has been a great platform for scholarship that makes a difference, so any recognition for my own contribution here is surely a recognition of this too, just as it is for my research collaborators globally."
As well as a fellowship, the British Academy is a funding body for research, nationally and internationally, and a forum for debate and engagement.
Professor Sir David Cannadine, President of the British Academy, said: "I am delighted to welcome this year's exceptionally talented new Fellows to the Academy. Including historians and economists, neuroscientists and legal theorists, they bring a vast range of expertise, insights and experience to our most distinguished fellowship.
"The election of the largest cohort of Fellows in our history means the British Academy is better placed than ever to help tackle the challenges we all face today. Whether it's social integration or the ageing society, the future of democracy or climate change, Brexit or the rise of artificial intelligence, the insights of the humanities and social sciences are essential as we navigate our way through an uncertain present into what we hope will be an exciting future.
"I extend to all of our new Fellows my heartiest congratulations and I look forward to working closely with them to build on the Academy's reputation and achievements."