New exhibition tells stories of families displaced by Partition of India
By: Lynsey Ford
Last updated: Wednesday, 13 June 2018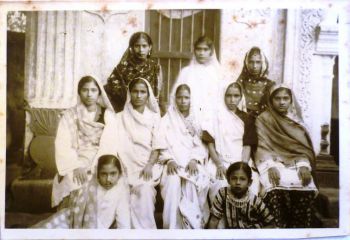 A free exhibition, which tells the harrowing stories of families displaced by the India-Pakistan partition of 1947, is taking place in Crawley.
Curated by University of Sussex anthropologist Professor Raminder Kaur, the exhibition at the Crawley Tree Museum (until 24 June) highlights the stories of survivors and their families who ended up living in Sussex.
The Partition, which resulted in the displacement of over 10 million people and the deaths of more than half a million Muslims, Sikhs and Hindus, eventually led to the creation of India and Pakistan.
Professor Kaur used material she sourced as part of her research for the theatre productions, Silent Sisters (2016) and Silent Sisters-Brothers Unhinged (2017). It includes stories, photographs and objects people brought with them to England, as well as the props and costumes used in the theatre productions which were designed by RADA-trained Art Director, Isobel Power Smith.
The display also includes British Indian coins that go back to the 1880s, phulkari material from the 1910s, a briefcase Gandhi charkha (spinning wheel) from the 1940s, photographs of a family before and after they fled their homes for safety in 1947 as well as embroidery by women for their marriages from the 1950s.
Educational workshops with school children teaching them about the history of migration to the UK will also take place at the museum.
Professor Kaur said: "This exhibition is a tribute to all the millions of people who were affected by partition over 70 years ago and to those who struggle with violence and displacement across the world today.
"Even though partition was a momentous occasion there is a tendency to brush things under the carpet. Future generations must not forget this episode in history and the need to curb racist and communalist surges."
The exhibition was produced by Sohaya Visions and Mukul and Ghetto Tigers and supported by the Sussex Asia Centre, Crawley Museum, Arts Council England, Crawley Borough Council, and Tower Hamlets Council.
You can find out more about Professor Kaur's research here.