Tracking wind and waves with fishers and forecasters
By: Martin Wingfield
Last updated: Tuesday, 29 May 2018
Our work in Thiruvananthapuram in south India supported by the Sussex Sustainability Research Programme aims at better risk communication for local fishers. The district's 48 mile coastline is home to one of the largest concentrations of artisanal fishers living in 42 villages. Fishing in the tropical seas of Thiruvananthapuram (8° 31' N 76° 56' E) is risky during the monsoon season that begins on June 1 with its high waves, winds, swift ocean currents, thunderstorms, and low visibility. Accidents are frequent. Still, marine weather forecasts are not easily accessible for the local fishers.
An interdisciplinary team led by Prof Filippo Osella, seeks ways to make marine weather forecasts more accurate, accessible and actionable in line with the risk culture of the fishers. The Sussex researchers work closely with the local communities, in collaboration with state officials and forecasters, especially, the State Disaster Management Authority (SDMA) and the Indian National Centre for Ocean Information Services (INCOIS). They design model forecasts and weather alerts with the local fishers, and help them disseminate these bulletins over many media such as mobile phones, FM radio, wireless sets, and loudspeakers. They also join the discussions amongst fishers, technologists and regulators looking at the feasibility of various locally-owned risk communication options, and co-producing forecast bulletins and ICT tools.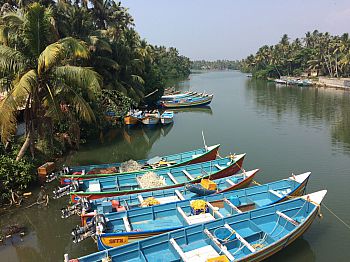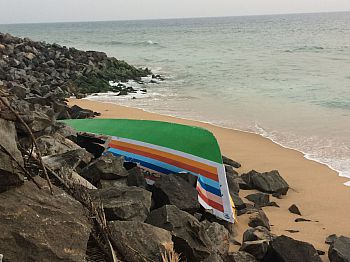 Left: Fishing boats docked in the safety of a local lagoon in Anchuthengu village in Thiruvananthapuram.
Right: A fishing boat crashed against the seawall near Anchuthengu, a risk the local fishers face during the rough-sea monsoon season.