#EmptyPlateSussex has launched to try and reduce plate waste in SussexFood outlets
Posted on behalf of: SussexFood
Last updated: Friday, 25 May 2018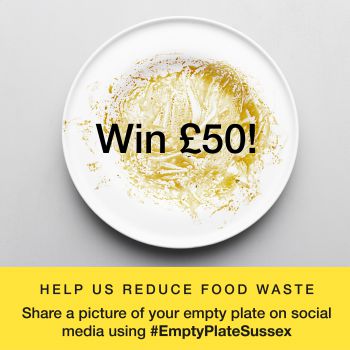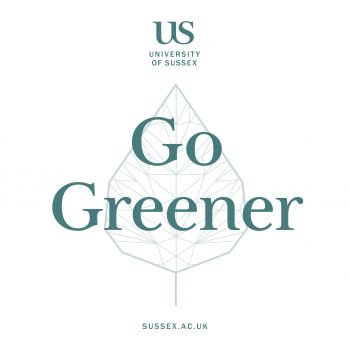 To celebrate Stop Food Waste Day, Compass Group UK and Ireland have teamed up with sustainability charity Hubbub to campaign for a reduced amount of 'plate waste'. This means that here at the University of Sussex, SussexFood and Hubbub are working together to try and reduce the amount of food customers throw in the bin straight from their plate.
Already, SussexFood use the smart metering system Winnow to monitor food waste. Using Winnow we have reduced our food production waste to 0.8% and we need to ensure we maintain this. We will continue to use this system and track our production waste, but it is now time for us to turn our attention to customer plate waste.
We are concerned with what happens to our food once it's been purchased – and this is where Hubbub are involved. Compass have funded a student-led project that focuses on testing innovative ways to reduce waste going from our customers' plates and into the bins.
It's estimated that emissions from food waste are equal to taking 1 in 4 cars off the road! Hubbub are testing a variety of positive behaviour change interventions – using rewards and positive messaging to encourage progressive student and staff responses towards reducing their waste and changing this statistic.
The students of Sussex have therefore created the #EmptyPlateSussex campaign.
The campaign #EmptyPlateSussex
If you finish all of your food, take a picture of your empty plate and share it on social media along with the hashtag #EmptyPlateSussex.
If you share a picture along with #EmptyPlateSussex, your name will be entered into a prize draw and you can win up to £50 along with a selection of other prizes.
If you think you won't be able to eat a full-sized meal, you can ask a member of staff for a bit less of anything you want to prevent your excess food going into the bin. In addition, if you aren't a fan of your side dish, you can ask to swap a side (only available on certain items).
Another way to resolve this waste issue is to take your excess food away; you can bring in a reusable container or ask SussexFood for one. We advise you to put your leftovers in the fridge as soon as possible if you're not going to eat it straight away.
University of Sussex students have been working hard to create the #EmptyPlateSussex campaign. Join our fight against food waste and get involved – share a picture of your empty plate on social media and be rewarded.
Go Greener at Sussex
The University of Sussex has begun an ambitious journey to become one of the greenest universities in the UK and is working towards cutting its carbon emissions by 45 percent by 2020.
The University, which is home to some of the world's leading sustainability academics, is engaged in a multi-million pound programme which has already seen more than 3,000 solar panels fitted on 29 buildings - the largest solar project in the UK higher education sector.
Go Greener will also involve the replacement of 27,000 light bulbs with more efficient LED lighting, improved heating and cooling systems, and the installation of smart metering across the campus.
Over the next two years the University will be looking to replace current energy systems with more sustainable alternatives, with the aim of becoming one of the most energy-efficient universities in the UK within the next ten years.