New three-quarter-million pound grant for SSRP and Global Studies research on climate risks to fishers in India
By: Fiona Hurd
Last updated: Friday, 4 October 2019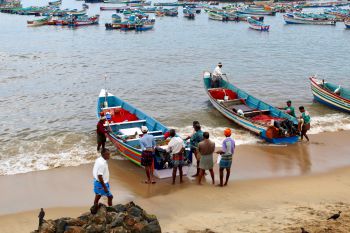 A multidisciplinary team of Sussex academics have been awarded a £728,000 grant from the UKRI-GCRF Equitable Resilience programme. The two-year project led by Filippo Osella from Anthropology with Kate Howland from Informatics and Max Martin from Geography aims to make South Indian artisanal fishers' livelihoods more secure and sustainable by improving safety at sea.
The main objective of the project is to close the gap between what marine weather forecasters produce and disseminate, and what artisanal fishers recognise as relevant and actionable inputs for decision-making. Bringing together these small-scale fishers with weather forecasters and government agencies, it will devise, test and promote effective means of communication of accurate weather forecasts, thus increasing the resilience of the fishers amidst a trend of extreme and hazardous weather conditions in a changing climate.
Access to trusted weather forecasts helps fishers make informed decisions to go to sea or not under hazardous weather conditions, thus reducing risk of potentially life-threatening accidents at sea and resulting in more secure and sustainable livelihoods for artisanal fishers in India and elsewhere in the Global South.
This project follows on from a seed-funded project under the Sussex Sustainability Research Programme (SSRP) and is part of a larger effort to provide science relevant for implementing the SDGs in an integrated way. The SSRP currently works in seventeen low- and medium-income countries. This new project also builds on and contributes to the expertise and scholarship of the Sussex Asia Centre and the Climate Science and Society research group at the School of Global Studies.
The research team is truly interdisciplinary, comprising anthropologists, geographers, atmospheric and marine scientists, and ICT and media experts. It will use ethnographic and instrument-based data gathering and employ participatory approaches in the fields of human-computer interaction and ICT4D to co-produce and test effective, culturally appropriate communication platforms. The field-research will take place in three different fishing communities on the Arabian Sea coast of south India, home to some of the densest and most diverse concentrations of artisanal fishers in Asia.
The research team said: "This project will contribute to making south Indian artisanal fishers' livelihoods safer and more sustainable".
Commenting on the new project the Director of the SSRP, Professor Joseph Alcamo, said: "This project is an excellent example of "deep interdisciplinarity" which spans the gulfs between the natural and social sciences and between them and engineering. It's just the kind of innovative research we need to support the achievement of the SDGs".