"Pale, male and stale" - Challenging representations of Africa at independent journalism festival
By: Stephanie Allen
Last updated: Tuesday, 13 August 2019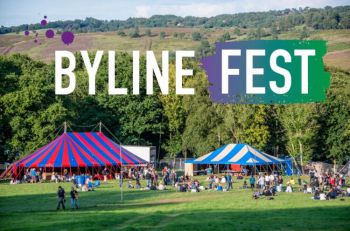 A University of Sussex researcher is due to chair a panel at the Byline Festival of independent journalism to discuss the UK media's representations of Africa.
Dr Thembi Mutch, a Research Fellow in Anthropology, is to chair the panel 'Pale, Male and Stale' on 24th August at 10.30am at the Byline festival. The event intends to address poor, partial, patriarchal and stereotyped coverage of Africa, which has wide implications for local and international audiences, as well as foreign and domestic UK politics and policies.
Prompted by the controversy surrounding a New York Times advert for an Africa correspondent, the impetus for the panel came from Dr Mutch's disgruntlement at UK media's inability to engage with feminist and internationalist agendas that take the Global South seriously, and acknowledge the diversity, difference, nuances and issues with current reporting.
As an award-winning South African/British journalist, Dr Mutch has lived and worked as a journalist for BBC, Al Jazeera, Channel 4, The Independent, Think Africa and The Ecologist, across Africa (Rwanda, Mozambique, South Africa, Tanzania, and Ethiopia) for 27 years.
She'll be joined by a panel of award-winning female journalists to discuss what needs to change; both within journalism practices, and in wider society. The panel includes:
Audrey Brown – An award-winning South African producer, documentary maker, reporter and presenter for BBC World Service's flagship news and current affairs programme 'Focus on Africa'. Audrey's previous experience includes working as a curator in South Africa's women's' Prison, and Channel 4's 'Africa Express'.
Nishtha Chugh - An award-winning independent journalist who's worked for The Guardian, Al Jazeera English, BBC World Service, Channel 4 News and Africa News and is a writer at Forbes on climate change & energy policy. Having reported from seven countries, Nishtha is also the winner of The Guardian International Development Journalism Award 2013
Eliza Angangwe – Editor at The Correspondent (Holland) and a multi-award winning journalist who has worked at CNN International and The Guardian. Eliza is also the founder and editor in chief of the Nzinga effect, which publishes content and organises events focusing on the stories of African women and women of African descent to change the narrative about Africa.
With stories about Africa making up less than 2% of international coverage, Dr Mutch argues that articles all too often contain a dominance of 'white saviour' narratives, or the dull binaries of Africa as either a basket case, or Africa Rising.
Social media - particularly Twitter – has, however, jilted the balance, and during the event, the journalists will explore the ramifications of this act of speaking back and rewriting the agenda. The panel will also look at the particular hurdles facing women who wish to report on the continent.
Dr Mutch said: "The coverage of Africa is remarkably limited. It's always the same authors, the same stereotypes and simple storylines. Having lived and reported from Tanzania for nearly 12 years, there's a lack of meaningful engagement with journalists of African origin, either in the diaspora or living in Africa.
"This is a problem because it builds a skewed image of Africa as one place, and perpetuates systems of aid, trade and dependency that take agency, complexity and meaning away from Africa's many, complicated, contradictory and living citizens.
"It's also a continuation of a colonial history where ultimately decisions about whose stories get told, and where, falls upon the shoulders a tranche of Foreign Correspondents, trained in the UK. These are invariably young, white, journalists trained in the North, who arguably are the least competent to tell it.
"We need people with a cultural and actual link with the continent, who 'get it'- who don't just understand "Africa" as a monolith after a few weeks in a Zanzibar or Gambian resort, or a safari to South Africa.
"Through this event, I want to raise the question of what can happen if we prioritise different employment practices, different, complicated, nuanced stories, and look at changing the way we fund and train UK and African journalists."
The Byline Festival aims to promote independent journalism and free speech. Taking place in Pippingford Manor Park in Ashdown Forest, Uckfield, the festival will this year play host to Extinction Rebellion, Pussy Riot and The Feeling, as well as hosting talks by The Guardian journalist Carole Cadwalladr, environmental activist and journalist Rebecca Onymira, poet Lemn Sissay, comedian Hardeep Singh Koli, cultural critic Afua Hirsch, and playwright, author and critic Bonnie Greer.
Discounted tickets are available for students by using the code BIG40 at checkout, which takes 40% off the student ticket price.