Asheninka officially recognised as a language by the Peruvian government after support from Sussex lecturer
By: Stephanie Allen
Last updated: Monday, 3 June 2019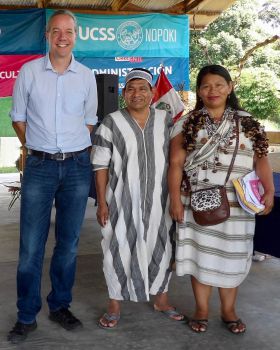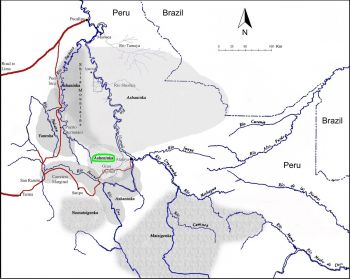 A workshop led by a University of Sussex lecturer has been credited as pivotal in the campaign to get an indigenous language recognised by the Peruvian government.
There are around 100,000 people in the Gran Pajonal region of Peru who have been classified as Ashaninka but 11,000 of these actually speak Asheninka.
Despite the similarity in spelling, Asheninka is significantly different to Ashaninka, with notable variations in its alphabet, words and pronunciation.
Indigenous groups were already fighting for official recognition of Asheninka but it wasn't until 2017, during workshops led by Dr Evan Killick, Senior Lecturer in Anthropology and International Development at the University of Sussex, that efforts became more focused.
Dr Killick worked in collaboration with three Peruvian partners, the Intercultural Association of Atalaya, SHARE-Amazonica and the indigenous university UCSS-NOPOKI, to organise an Intercultural Workshop on Collaborative Research.
It was during the five-day workshop, held in a town in the heart of the Peruvian rainforest, that attention began to focus on the educational impacts caused by a lack of recognition for Asheninka and efforts were made to pinpoint where and how Asheninka political organisations needed to approach the Peruvian Ministries of Culture and Education, in order to push for change.
Now, two years later, the Peruvian government have officially recognised Asheninka as the country's 48th language.
Dr Killick commented: "This official recognition of Asheninka is extremely important for the 11,000 individuals who currently speak it in the region. There was a real danger that this language would be lost as it was not supported in local schools or recognised in official documents and meetings. This acceptance will support Asheninka people as they seek to conserve their language and make sure that their culture and way of life is kept alive for future generations."
As a direct result of this official recognition, Asheninka children will now be taught and provided with educational materials in their own language, rather than having to struggle through a neighbouring linguistic variant.
Teacher and indigenous leader Amalia Casique Coronado said: "Until the anthropologists met, we were really lost, we were pushing at all the wrong doors."
Dr Killick's research collaborations with indigenous communities and federations in the region is now continuing with a focus on conserving Peruvian Amazonia's cultural and biological diversity.