Win for Global Studies graduate at Global Undergraduate Research awards
By: Stephanie Allen
Last updated: Thursday, 28 November 2019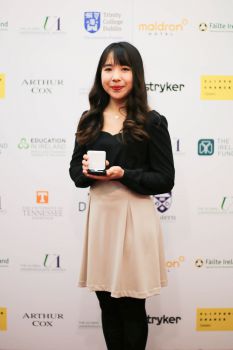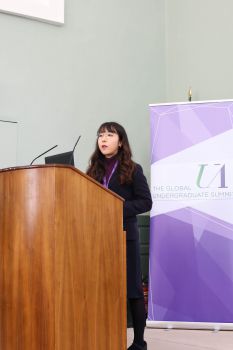 A former student at the University of Sussex has been announced as the Global Winner in the Social Sciences: Anthropology and Cultural Studies category of the 2019 Global Undergraduate Awards.
Yume Tamiya graduated this summer with a first class BA honours degree in International Development with International Education and Development Studies.
After entering two theses to two separate categories, Yume found out that she'd not only won the Anthropology and Cultural Studies category, but was also Highly Commended for the Sociology category, with her work coming in the top 10% of all submissions.
She was awarded the Thomas Clarkson Gold Medal, named after a man who dedicated his life to the slave abolitionist movement after winning an essay competition at the University of Cambridge, at an international ceremony in Dublin where she also presented her research project.
The Global Undergraduate Awards are the largest academic awards programme in the world. They recognise top undergraduate research in 25 different categories and are judged by experts from some of the world's leading institutions. This year, over 3,400 submissions were entered for the awards, from across 338 universities in 50 countries.
This is the first time a student at the University of Sussex has ever been named as overall Global winner, despite several students becoming regional winners in 2017, and highly commended in several categories in 2018.
Yume said: "This experience has changed my life in a way I didn't think was possible - I feel more confident, optimistic and responsible than ever."
Yume was named as Global Winner for a paper she wrote for her Human Rights module at Sussex titled, Who Limits the Agency of Palestinian Children in the Occupied Territories? Rethinking Politics and Western Conceptions of Childhood.
In her research, Yume drew attention to the failure to listen to the voice of Palestinian children, and the tendency of humanitarian organisations to see them as 'helpless victims' rather than agents of change.
Yume's interest in children's rights came from an internship in Ghana, where she witnessed issues like child marriage and child labour.
She explained: "I began researching children's rights by interviewing local people about their perceptions of children and was shocked to hear some answer that adults' rights surpassed those of children.
"During the course, the reading I was doing also showed that the universal human rights framework, and those who enforce it, don't necessarily take local contexts and the roles that children play in society into consideration.
"This made me feel quite frustrated with the disregard towards children's rights, and miscalculated policy making. But it also left me with a desire to do more research on how unequal power relations, or wrong assumptions, can lead to their human rights violations.
"Despite the lack of literature on children in the field of anthropology, I decided to dig a bit deeper and write specifically about Palestinian children who are subject to grave human rights violations. I looked at the issue through the lens of politics, law, legal anthropology, international development and wider anthropology.
"The School of Global Studies taught me how to approach issues critically and from an interdisciplinary perspective, and I think this was greatly valued by the judges at The Global Undergraduate Awards."
Yume is currently an English teacher in Japan but wants to continue with her studies, and is hoping to do a Masters and attend law school in the future, pursuing her aspirations to protect vulnerable and marginalised children.
She said: "I have a strong interest in children's rights having already interned at a human rights NGO in Ghana and more recently at Barnado's, the UK's leading children's charity. As a result, I aspire to become someone that protects the rights of some of the most marginalised children around the world.
"I'm lucky that these awards have already shown me future possibilities regarding work and postgraduate study.
"But I could not have won without the support from former tutors and academic advisors; from those at the Sussex Centre for Language Studies, who gave me valuable feedback on my written work, to those in the School of Global Studies.
"I want to express my sincere gratitude to all the academic staff – whom I am very fortunate to have encountered during my time at Sussex – for their incredible support and advice.
"I also want to encourage more students from Sussex to submit their work to the Global Undergraduate Awards. I think it's very important to draw attention to research that really matters, and the global summit is such a fantastic opportunity to meet new people who are passionate about their subjects and with whom you might become lifelong friends."
Read more about Yume's experience at the Global Undergraduate Summit here.