Development Studies at Sussex: reflections on our No.1 in the world ranking
By: Maria Andreou
Last updated: Friday, 13 May 2022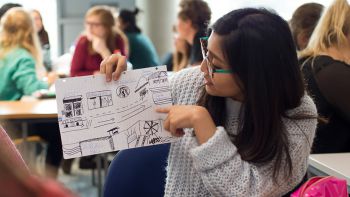 Written by Elizabeth Harrison, Head of the School of Global Studies at the University of Sussex and Melissa Leach, Director of the Institute of Development Studies
Last month the University of Sussex, in partnership with the Institute of Development of Studies (IDS), was named best in the world for development studies in the 2022 QS World University Rankings. This ranking – achieved for the sixth year in a row – reflects the strength of our research-led development studies and of the unique teaching and research relationships between Sussex, IDS, our staff, students, alumni and partners globally. It is about asking difficult questions, staying relevant to changing contexts, sustaining our teaching and research networks and partnerships, and always adapting and reflecting.
Asking difficult questions
The roots of development studies as a discipline go back to the early 20th Century; to the early colonial attempts to 'develop' colonised nations and their subjects. In the post-colonial world, development studies was, for a long time, synonymous with the idea that richer, more 'developed' countries were 'helping' the rest in the form of aid. But not at the University of Sussex.
Over the last 60 years, our thinking and research in development studies has challenged such assumptions about geopolitics, power and north-south relations, while continuing to engage, advise and ask difficult questions. Whose voices are being heard? What does this tell us about power and inequality? How can justice be fostered – locally, nationally and of course, globally? How can we engage to make a difference? It is this reputation that is at the root of our continued number one ranking.
In the early 2020s, the world of global development has changed dramatically from its early origins. Fast-changing technology, communications and connectivity make a huge difference – though not for everyone, and their dangers, as well as opportunities, are more and more apparent.
Changing contexts
Centres of global power are shifting, and spaces for democracy, citizen voice and rights, under new kinds of threat. Conflict, security, global health, and climate and environmental change are taking forms that are very different to those even at the turn of the millennium. Debates about race, gender and decolonisation are increasingly mainstream (though they have been central to our work at Sussex for decades). The Covid pandemic has up ended the world with social, economic and political impacts likely to persist for many years, while highlighting the complexities and uncertainties that now pervade all aspects of development.
At Sussex and IDS, we have responded to these changing contexts with new teaching programmes in areas such as Climate Change/Sustainable Development, Food and Development, Migration and Global Development – alongside our longstanding and extensive existing undergraduate and postgraduate teaching programmes.
Research and partnerships
Our research has also shifted into new areas as they become more globally significant – so, for example, we are now helping shape debates on a wide range of current issues such as access to vaccines and preparedness for future pandemics; to the regulation of global financial flows, equity in international tax regimes, achieving climate justice in ways that respects local knowledge, supporting people's food security amidst crisis, and understanding and addressing new forms of gender, racial and religious violence.
All of this is grounded on firm principles that put our international partnerships at the core of all that we do. Much of our research is geared to making a difference, engaging with policy-makers, development practitioners, businesses, social movements and communities – seeking to enable positive change, whilst challenging and calling-out the power relations that often work against this. We also never lose sight of the fact that Global Development is as much about issues of inequality and social justice in the Global North, including the UK, as it is anywhere else.
A vital feature of development studies at Sussex and IDS is the integration of these teaching and research programmes. Those leading lectures, classes and seminars are active researchers at the sharp end of current development issues, and they bring not just theory and evidence, but also first-hand experience, questions and dilemmas into their teaching in vivid ways.
Professional and personal networks
Coming to us from countries across the globe, with a wealth of experience and with diverse perspectives, our students bring vital contributions. They leave with a community of professional and personal networks that lasts long after graduation, going on to make a difference in the world – whether as grassroots activists or civil society leaders, engaged academics, diplomats or presidents (our alumni include the current President of Costa Rica and former presidents of Botswana and South Africa).
Of course, much of this face-to-face community building has been harder to achieve during Covid-19. And, like many organisations, we are in a period of navigating our 'new normal' and learning how to best structure teaching in a way that draws on established teaching practises, yet also takes advantage of the learning generated during Covid.
Confronting challenges
We must also confront the challenges of mental health among staff and students and find ways to support students who are increasingly combining work and study, extending their periods of study, and experiencing a world of declining resources and increasing precarity. At the same time, moving to online teaching, research and engagement has also presented us with opportunities for collaboration that we might only have dreamed of two years ago.
Our Sussex Development Lectures, for example, can now involve globally important speakers without the carbon footprint. Online research meetings help equalise some of the previous difference between us and our research partners. Greater spread of and comfort with online technologies has enabled our alumni networks to connect more often and more closely, maintaining those all-important networks and friendships across the world.
Perhaps the most important lesson of the pandemic is that we are all living in a world of disruption and contradiction – social, economic, political, environmental, in health and more. If this is the 'new normal' for global development, then development studies must be about learning to navigate, in ways that build equity and justice, and engage with power.
This is at the heart of development studies – Sussex and IDS style, across our research, teaching, and many practical engagements. It means that being number one in the world should be less a call for prideful celebration, than for continued humility, questioning, reflection and adaptation. These values are alive and well at Sussex; long may they continue.