Sussex Professor supports launch of UN report on global practices of gender discrimination
By: Stephanie Allen
Last updated: Monday, 6 July 2020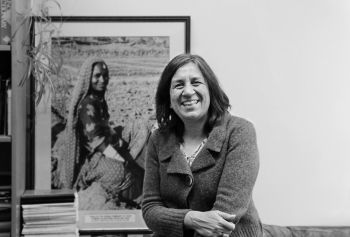 A University of Sussex Professor has contributed to the launch of a new UN report, which unveils the scale, prevalence and redressal of three silent, endemic practices of gender discrimination.
Professor Maya Unnithan, Social and Medical Anthropologist and Director of the Sussex Centre for Reproduction, Technologies & Health (CORTH) was invited as one of four panellists to comment on the report published by the United Nations Population Fund (UNFPA).
Against My Will: Defying the Practices that Harm Women and Girls and Undermine Equality, launched in the UK on 30 June and explored why practices like gender-biased sex selection, Female Genital Cutting and child marriage persist around the world – and what can be done to defy them.
Professor Maya Unnithan said: "At its core this powerful report puts a spotlight on the silent, endemic processes which cause harm to millions of women and girls globally.
"The three harmful practices of son preference, Female Genital Cutting and child marriage are identified as acute, current practices causing suffering and often irreversible damage to the prospects of life, education, livelihood, equality and rights specially of women and girls across the world. In the report harm is conceptualised as more than injury and a cause of suffering that is beyond statistics and immeasurable."
Due to the pandemic, the UK launch for the report took place virtually with participants joining through Zoom to find out more from a panel of experts.
Prof Unnithan said: "Joining the launch virtually was exciting. There was a buzz with a 100 people attending, including the heads of UK development and health provider organisations as well as several Members of Parliament. Dr Natalia Kanem UNFPA executive director and UN Under-Secretary-General provided an insightful overview.
"The audience asked a tough set of questions mainly to do with the realisation of the goals over the next decade (referring to the sustainable development goals by 2030). I very much hope the report generates a serious conversation about action at policy levels beyond good intentions."


Find out more about the report and its finding over on the CORTH blog: http://www.sussex.ac.uk/corth/publications/blog/2020-07-03