News
See our news stories for culture, equality and inclusion at Sussex.
David Ruebain: Inclusive Sussex update
Posted on behalf of: Internal Communications
Last updated: Thursday, 4 August 2022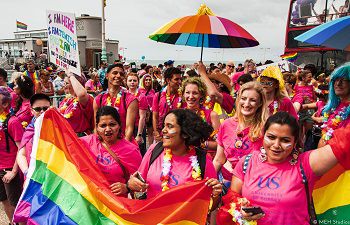 On 3 August, David Ruebain, Pro-Vice-Chancellor (Culture, Equality & Inclusion) emailed all staff. You can view the message below:


Dear colleague,

In this update, I would like to focus on Brighton & Hove Pride this weekend, the work we are doing on our Inclusive Sussex strategy and key appointments.


Pride
This Saturday, 6 August, I will be joining our new Vice-Chancellor Sasha Roseneil and a group of 50 staff, students and alumni in the Pride community parade for Sussex.

The University of Sussex is a proud partner of Pride, and has been since 2017. It will be an honour for us to be represented at an event which celebrates inclusivity and diversity, raising the flag for LGBTQ+ equality, both at the University, and also in the wider community across Brighton, Hove and beyond.

I am delighted that Sasha, as the first woman to lead Sussex in its 60-year history, will join the Pride parade.

Members of our community shared their reasons for taking part in the parade in Spotlight on Brighton & Hove Pride, including fellow UEG member Professor Kate O'Riordan, Dean (School of Media, Arts and Humanities).

To mark Brighton & Hove Pride we are flying the flag over Sussex House this week.
Changes to the HR team
Since my last update there have been some additions to the HR leadership team to support EDI work. Isobel Pearce, Assistant Director Culture, Equality and Inclusion, and Cathy McDonnell, Assistant Director Culture, Organisational Development and Wellbeing have joined Sussex this month. I am sure you'll join me in welcoming them and I'm looking forward to working with them both.
Inclusive Sussex strategy
Last month I introduced our updated Equality, Diversity and Inclusion (EDI) strategy - Inclusive Sussex. This, alongside a range of policies and information can be found in our new Inclusive Sussex webpages which highlight the work we are doing to meet our five Inclusive Sussex goals.
Accessibility
Recently we held an accessibility webinar with AbilityNet when host Adi Latif took participants on a journey to experience the digital world from a blind person's perspective. The replay is now available to watch and will help you understand more about digital accessibility and why inclusive design is a crucial aspect of an inclusive culture. Further resources include guidance to make sure learning resources are accessible and tips on best practice guidance on accessibility.
Upcoming event: Black at Sussex
On 22 September we will be holding a joint event with the Black Cultural Archives from 6.30-8.30pm, at the Black Cultural Archives in Brixton. This event is part of the Black at Sussex programme, an initiative to recognise and celebrate our Black alumni. I'll be attending the event alongside VC Sasha Roseneil, and Communications, Marketing and Advancement Director Emily Tofield.

Finally, I wanted to add my congratulations to the England Women's Football Team on their tremendous success!

I do hope you are able to get some time to relax over August and I look forward to seeing you next term.

With good wishes,

David Ruebain
Pro-Vice-Chancellor (Culture, Equality & Inclusion)