Lucy Bryson
Lucy Bryson is a community safety manager at Brighton and Hove City Council.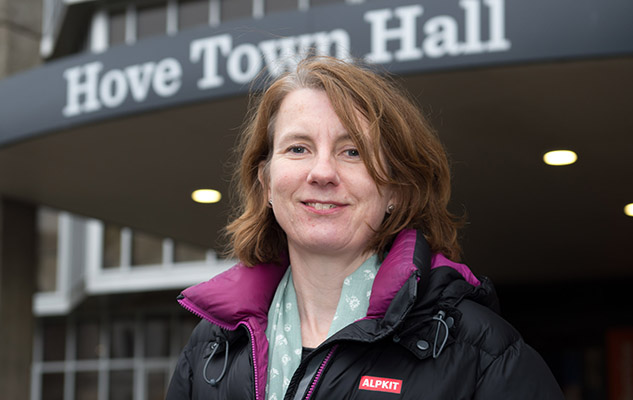 Introducing Lucy
Her role focuses on the city's refugee and migrant populations. She is also a member of Sanctuary on Sea, an organisation that engages communities in the city by promoting inclusion, safety and welfare for all citizens – new and old.
In her words
I first began working with refugees in the 1990s, when I went to Slovenia to volunteer in camps for Bosnian refugees, and have worked with refugees ever since. I find it interesting and challenging and I enjoy meeting people from all over the world with different life experiences. I came to Brighton in 1999 and started working for the council in 2003.
My role now is to make sure the city is doing its best to respond to immigration. I chair a forum that brings organisations together to talk. I work with migrant populations to help them access services and I respond to people who want to help migrants.
What I have learned is that you cannot understand migrants unless you understand what is going on in their home countries. They may be concerned with what's happening to the loved ones they have left behind. Working with experts, such as those at the University of Sussex's Centre for Migration Research, has helped me in my job, particularly training people working with migrants. I remind them that they have to understand the full picture.
About 15% of the population in Brighton and Hove were not born in the UK. We have a higher proportion of Arabic speakers and western Europeans than many other places in the South East, and fewer new eastern Europeans, but the picture is always changing.
Recently people have had to leave their country through war and turmoil. The city has so far welcomed around 20 Syrian refugees through the national Vulnerable Persons Relocation Scheme. However, there are many other refugees who have arrived by themselves.
The key is to get them into employment so they don't get stuck in the benefits system. Migrants generally come with skills and qualifications and want to work.
Finding accommodation is the hardest thing. There is so little affordable housing for anyone and now the benefit cap is making it particularly difficult for larger families. We have had to rely on private landlords being willing to take refugees at affordable rents, which is why, as a city, we have only been able to take a few small families.
It is heart-warming that people want to help refugees but it has to be properly co-ordinated. We had a lot of calls from people offering rooms for migrants but those coming here on the government scheme needed a proper home, not a spare room for a week.
Because so few refugees are able to get to the UK, I remind people they can donate to or volunteer for more charities working with poverty in general. They can give to the local foodbank – some of this may go to migrants but others need food, too. It's about using the interest in refugees for the benefit of the wider community.
---
You might also be interested in: