Cat Fletcher
Cat Fletcher is one of the founders of Freegle UK, a website for recycling and is one of the key drivers behind Brighton Waste House.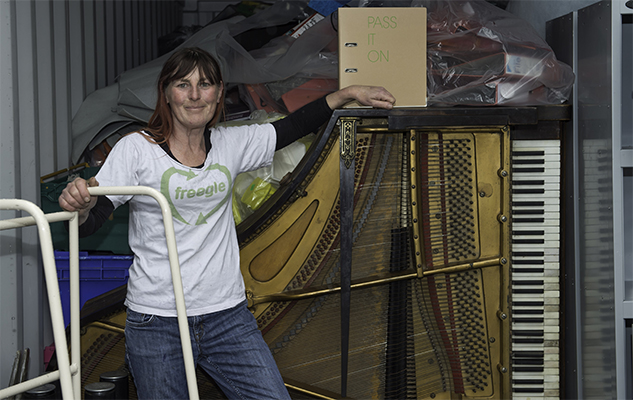 Introducing Cat
Cat Fletcher is one of the founders of Freegle UK, a website for reusing almost anything, and was one of the key drivers behind the Brighton Waste House. She is currently the "Re-Use Manager" for Brighton and Hove City Council, which involves finding new homes for equipment and furniture.
In her words
My concern for the environments stems from when I was a kid in Australia. I used to sail. It's one of those sports where you're in tune with nature, where you understand the relationship between the planet and the climate.
When I came to England in 1992 I thought I had gone back in time 30 years. I was totally horrified that nobody here recycled. So I actually got a van and I used to drive around picking up my friends' recycling to take to recycling points. My friends indulged me and thought she is just that funny girl from Australia. Now they say well, you must have thought that we were eccentric.
My kids found me incredibly annoying when they were teenagers, but now they are in their twenties they completely get it. They have gone off around the world and seen it's not just me being weird. My twin daughters were in Vietnam, in what should be a paradise, and there was plastic everywhere. They said Mum, can you do something about this?
---
I can't change the system, but I do what I can. We all can."

cat Fletcher


Re-Use Manager, Brighton and Hove City Council
---
I did a TEDx (Brighton) talk in October that has gone online, and I am talking to the BBC and going to Australia to talk. The good thing about me doing these talks is that I am kind of the real deal. I get my hands dirty and do it. I'm not just standing there and preaching at people. That's why it's so good that the Council created this role for me. There is no other re-use manager in the whole of the UK.
I can't change the system, but I do what I can. We all can.
We can ditch single-use plastic bottles, plastic bags, plastic straws, plastic toothbrushes (you can get compostable bamboo ones now). We can buy and acquire second-hand before buying new.
You can get awesome things second hand through Freegle, Friday Ad, boot sales, markets, auctions, salvage yards. There's an entry point for everybody. That makes better use of the stuff we have and keeps that in circulation. If enough of us did this it would change the economic model in which we endlessly buy new stuff.
Manufacturers need to get smart if they want to be in business in 20 years. They need to make products that aren't polluting the world and to stop pandering to the rich. It's no good a small bunch of people having a whole pile of money – that's not going to keep humanity going. What will is if we respect people and the planet.
There's the circular economy model, where waste is minimised, everything is a resource for another process and everything is designed to last or to be repaired on a take-back system.
This is about maintaining a good economy for everybody but going about it in a different way so that we are not just making tat.
---
You might also be interested in: