Take part in community projects
Get involved in one of our projects designed to help and support people in Brighton & Hove and the surrounding area.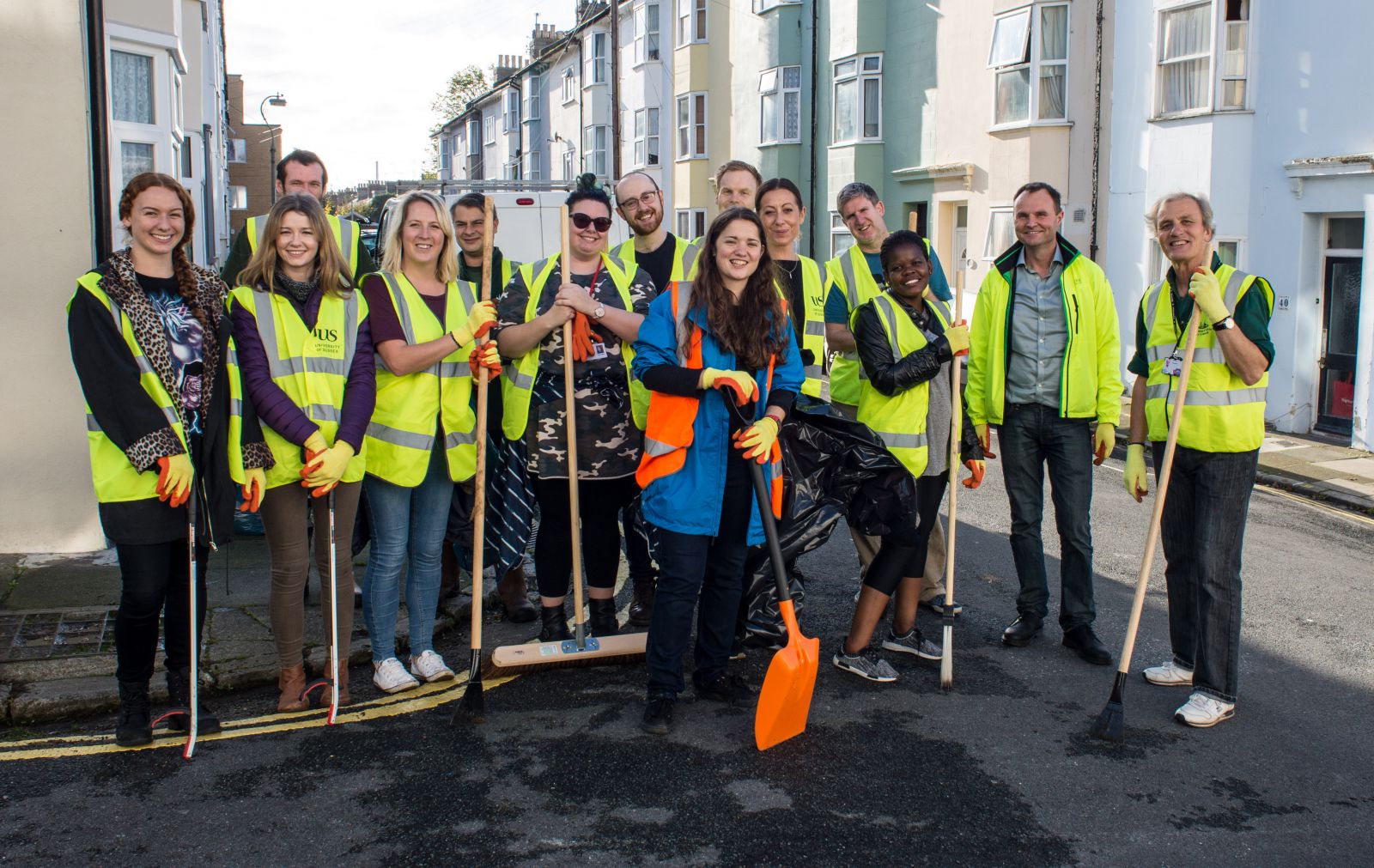 Legal advice
If you are a local resident or business, you can receive free legal advice from Sussex Law students.
We run five law clinics in areas including family, employment and housing law. All clinics are provided by third-year law students and are overseen by qualified solicitors and tutors.
Find our more about the law clinics.
---
Renting information
Benefit from free advice on renting privately in Brighton & Hove through Rent Smart, an organisation for tenants.
You can get information from the Rent Smart website on issues such as how to find a new home and what to do when your tenancy ends.
The organisation is a partnership between the universities of Sussex and Brighton, the University of Sussex Students' Union, Brighton & Hove City Council and other partners.
---
Street cleans
You can take part in street cleans organised by our Housing Services team.
With help from resident volunteers and Brighton & Hove Council's City Clean team, we have already cleared more than 200 bags of waste in Brighton. Read about two street cleans in Viaduct Road and Beaconsfield Road.
If you're interested in helping at a future street clean, email housing@sussex.ac.uk with your name. If you're a current student, also include your student number.
---
Children's activity camps
If you have a child aged seven to 16, you can book a place on one of our activity camps, organised by Sussexsport.
Our holiday activities and camps run in half term, Easter, summer and Christmas vacations.
---
Community ambassadors
Since September 2018, our Community Ambassadors have been visiting student properties across the city to provide information about being a good neighbour, dealing with rubbish and recycling and any other issues they may have.
As part of the annual scheme, Sussex students visit residents to discuss community projects in their area and provide information about services at Sussex such as the community feedback service.
The scheme is organised by our Housing Services team and in September 2018 we reached more than 7,000 Sussex students living in more than 2,000 properties across the city.
Find out more about our Community Ambassadors
If you have any questions or feedback about the scheme, email us at: community.ambassadors@sussex.ac.uk
---
Contact us
Email community@sussex.ac.uk if you want to get involved in any of our projects, or have an idea for how we could be helping you and your community.
---
You might also be interested in: