LPS doctoral researchers discuss professional developments challenges
By: Laura Arnold
Last updated: Thursday, 11 July 2019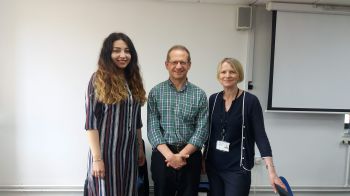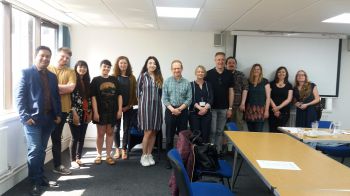 Twenty students took part in the seventh School of Law, Politics and Sociology (LPS) annual away day for postgraduate doctoral researchers, held this year on 26th June at the Brighthelm Centre in Brighton. The away day, sponsored by the Sussex Economic and Social Research Council (ESRC) Doctoral Training Centre, focused on three themes relating to PhD professional development selected by the doctoral students themselves: the PhD journey, getting published, and impact and engagement with non-academic audiences
In the first session, Interim Head of the LPS and Professor of Law Sue Millns and one of her recently completed doctoral students Dr Gizem Guney, gave supervisor and student perspectives on all aspects of the 'The PhD Journey'. They drew on their experience of working together over a number of years and explained in detail how there were different challenges at different stages of the doctoral process. Indeed, Prof Millns stressed that every PhD journey was unique.
In a very frank and honest presentation, Dr Guney described how she went through a 'year of frustration' when she experienced the self-doubt and the 'imposter syndrome' that every PhD feels at some stage, before her 'year of enlightenment' and even admitted to enjoying her viva! The discussion that followed picked up on the various professional development challenges faced by researchers on their 'PhD journey' in addition to working on their thesis, including experiences of undertaking undergraduate teaching.
Building upon this, the second session was a very dynamic one and involved break-out groups on the perennial topic of 'Getting published'. Professor of Politics Paul Taggart and Sociology lecturer Dr Kathryn Telling led a break-out group on publishing in academic journals, giving their contrasting experiences as, respectively: a senior academic who has edited two prestigious political science journals ('Politics' and 'Government and Opposition') and a relatively early career researcher.
LPS Director of Doctoral Studies and Professor of Politics Aleks Szczerbiak and Law lecturer Dr Helen Dancer hosted a break-out group on how to get a PhD thesis published as a monograph. The break-out groups were repeated so that every student had an opportunity to attend both. The session rounded off with a plenary discussion in which the facilitators discussed cross-cutting themes such as the trade-off between turning a thesis into a book and trying to get as much of it published as stand-alone journal articles.
The final session on impact and engagement with non-academic audiences led by Law School research fellow Dr Moira Dustin and Politics PhD researcher Rebecca Dobson, who specialise in advising LPS researchers on how to make their research relevant and accessible to practitioners. After overviewing why researchers should want to engage and 'busting the jargon' - explaining the difference between 'dissemination', 'knowledge exchange' and 'impact' - they led a group discussion on how PhD students can raise awareness of their research outside academia and ensure that it makes a change.
A wide ranging debate concluded that PGRs should not get too 'hung up' on the kind of full-blown 'case studies' required by the Research Excellence Framework (REF) but think more about how they can develop engagement and impact narratives about their current or future planned research in the context of future job or research funding applications.
Summing up the day, Prof Szczerbiak commented:
'Although the topics covered were wide ranging for me three themes emerged from the day, all related to the support that we can offer to our PhDs at Sussex and particularly in LPS.
First, the key importance of the relationship between the doctoral researcher and their supervisor, and the latter's role as a mentor at every stage of the PhD journey both academically and in terms of specific professional development tasks such as getting published.
Second, the support that can be derived from being part of a wider academic departmental, LPS and Sussex research community, and particularly developing a supportive network of fellow PhD students. The latter in particular can be an invaluable source of peer support and advice, especially at those points when student's encounter the frustration and self-doubt that is an inevitable part of the doctoral process.
Third, the broader resources that we have at Sussex in particular areas of specialism, such as engaging with non-academic audiences. This is an increasingly important element in developing a successful research career, but whose particular requirements and challenges are constantly in flux and often unclear to even more experienced academics. So it is great for our PhDs to be able to draw upon these kinds of specialists within our School.'