Sussex meets Berlin
By: Laura Arnold
Last updated: Monday, 25 March 2019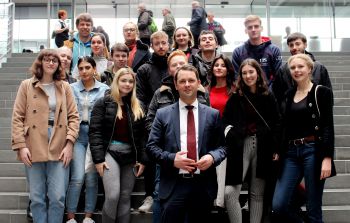 17 undergraduates from Sussex's politics department recently spent four days (18-21 March) in the German capital, Berlin, speaking to German politicians.
The trip, now in to its 15th year, gives students studying a module on the government and politics of Germany the chance to pick the brains of German parliamentarians. The 2019 trip saw students meet MPs from the German Left Party, the Liberal Free Democrats, the Social Democrats, the Christian Democrats and indeed the far-right Alternative for Germany.
The Sussex team took the opportunity to fire a wide range of questions in; how are German parties trying to support gender equality? When will Germany finally raise its defence spending to 2 per cent of GDP? Should German troops remain in Afghanistan and, of course, what (on earth) do Germans make of Brexit?
"The trip is a really good opportunity for students to dig a bit deeper in to German political life" said Dan Hough, Head of the Politics Department and the Trip Leader. "We're also really lucky in that every year politicians readily make themselves available and give us time to ask plenty of questions".