Business School engages with Nordic innovation agencies on 'transformative missions'
Posted on behalf of: Transformative Innovation Policy Consortium
Last updated: Tuesday, 8 November 2022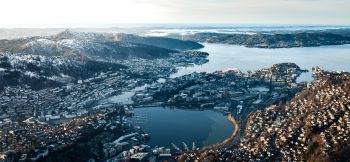 The Transformative Innovation Policy Consortium at the University of Sussex Business School teamed up with experts from The Research Council of Norway, Vinnova and Business Finland last month to shape the benchmarking of mission orientated innovation policies in the region.
Analysts, advisors and strategic leaders from Nordic innovation agencies joined SPRU staff for an extended workshop on the theme of transformative missions. The Research Council of Norway, Vinnnova and Business Finland are all members of the Transformative Innovation Policy Consortium (TIPC), coordinated out of SPRU at the Business School.
Participants reflected on developing and implementing mission-orientated innovation policies with a transformative agenda, sharing insights and experience.
The event kicked off with a session by Paula Kivimaa, Associate at SPRU and Research Professor at the Finnish Environment Institute (SYKE), introducing how transformative and mission-orientated innovation policies (TIP and MOIP) address environmental and social transitions, and setting out the need for missions to be transformative, orientated towards systemic change.
Leaders from Vinnnova, Business Finland and The Research Council of Norway then introduced a series of case presentations, sharing experience of designing and implementing mission-orientated activities with a transformative focus, including:
Impact Innovation, an ambitious strategic innovation initiative led by Vinnova, Formas and the Swedish Energy Agency, which brings together business, academia, the public sector and civil society come together to meet the challenges of transition to sustainability
In a final session, participants drew on the case presentations to explore important questions on the governance and evaluation of mission-orientated innovation policies, and the scope for enhancing the transformative potential of missions and actions.
Speakers reflected on the challenges of coordinating mission-orientated activity at national and intergovernmental levels and across public and private sectors – and of aligning visions across different interest groups.
Victoria Shaw, programme director at TIPC, said, 'The event strengthened networks between Nordic agencies and TIPC, and helped to advance a shared understanding of designing and implementing missions orientated to systemic change.'
'It was great to have a workshop on this important topic and with a widened participation,' said Teppo Tuomikoski, Senior Adviser at Business Finland. 'It definitely gave us a lot of food for thought on how to be more transformative.'
The next forum in November will focus on the broader context of missions and coherence with other policy actions.
Further information: www.tipconsortium.net