Over 150 school and college students visit Politics department
By: Laura Arnold
Last updated: Wednesday, 30 January 2019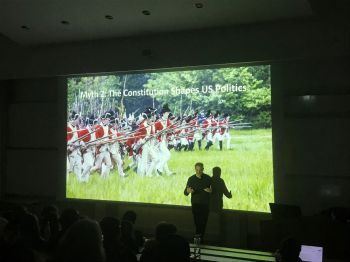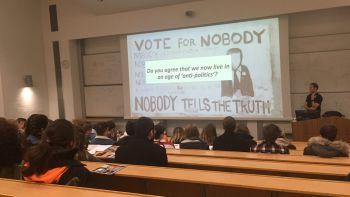 The Sussex Politics department welcomed over 150 students from 6 schools and colleges across East Sussex on Thursday 24th Jan 2019. The event was organised by Politics Admissions, Student Recruitment and Marketing, and the Post-16 Education Improvement Partnership on behalf of East Sussex County Council. The schools in attendance included Beacon Academy (Crowborough), Bexhill College, Gildredge House School, Hailsham Community College, Heathfield Community College, Uplands Community College (Wadhurst) and Uckfield Community Technology College.
The Politics department delivered a programme of academic workshops which focused on the rapidly changing and uncertain state of contemporary politics across the UK, USA, and EU. Dr Jonathan Moss delivered a session on the rise of anti-politics in Britain, followed by a session on Politics in the United States: Myths and Reality by Professor Paul Taggart. Dr Neil Dooley concluded the day with a session on Europe in crisis.
Fenella Tallon, the Post-16 Education Improvement Partnership Co-ordinator, thanked the politics department for a "really informative and enjoyable" day, reporting that the schools and teachers involved "were full of praise for the whole thing". Dr Neil Dooley, admissions tutor and lecturer in Politics added that "the entire day was a real success. The students were fantastic and really engaged, and the academic sessions were inspiring".
Future visits from schools and colleges to the Politics department are planned in the Spring and Summer of 2019.