Field classes are an essential and stimulating part of all Geography degrees at Sussex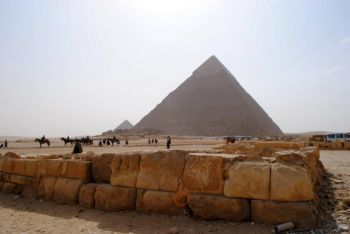 A particular highlight of Geography degrees at Sussex is the second year field class, running for up to two weeks over the Easter vacation. Sussex operates arguably one of the best and most ambitious field class programmes of any UK University; students are asked to select from a choice of four or five impressive and often distant destinations associated with the research interests of the teaching faculty who lead the trips. In recent years we have offered field classes to California, Vietnam, Thailand, Morocco, the Seychelles, China, Dubai, southern India and Egypt.
Sounds interesting? Then why not take a look at some field class videos including those by George Leach-Hutchings on the 2017 Los Angeles field class; Claire Leapman a student on the 2016 China field class and one by James Fullbrook, a student on the Mojave field class in 2014.
You can also view an archive of some student-produced field class videos on YouTube.


Highlights from the China 2019 Field class

Visit to the Department of Earth System Science at Tsinghua University

Prof. Wang Yi from the University of Sussex in the UK led 32 undergraduates from the Department of Geography and Environmental Science to visit the Department of Earth System Science at Tsinghua University. Prof. Luo Yong, the party branch secretary and deputy director of the department, received them.

Visit to the Institute of Atmospheric Physics (IAP), Chinese Academy of Sciences (CAS)

Led by Professor WANG Yi of School of Global Studies, University of Sussex (US), UK, delegation from Department of Geography and School of Global Studies paid their visit to the Institute of Atmospheric Physics (IAP), Chinese Academy of Sciences (CAS) on April 12, 2019.

Visit to the Institute of Earth Environment of Chinese Academy of Sciences in Xi'an

During the China 2019 field class, 32 students led by Yi and his assistants visited the Institute of Earth Environment of Chinese Academy of Sciences in Xi'an (http://english.ieecas.cn/) on 19th April 2019. The group was welcomed by their international collaboration officers, and visited different laboratories at the Institute, starting with the advanced Xi'an AMS Centre, rock and sedimentation cores, tree ring lab, atmospheric aerosol analysing lab, and the cave stalagmites lab.

The group also had a seminar by Dr. Yue Li to introduce the Chinese Loess Plateau and its importance in paleoclimate research. In the afternoon, the group visited a Loess site nearby a small village called Ren Jiapo, 30 miles away from the Institute. They found some red clay sample at least over 2.6 million years from the present-day.

Los Angeles 2019

Zara's experience of the Egypt field class

The Geography fieldtrip I chose was a 10 day jam packed adventure in Egypt. We travelled in and around Cairo, took a sleeper train to Aswan, visited Abu Simbel, Fayoum, and Alexandria to name a few of our locations.

The fieldtrip research question we were set was: the relationship between environmental management and political authority in Egypt. A central feature of the trip was visiting the New Valley Project under the Toshka spillway, where we saw a large scale irrigation project in progress and talked to the director about its development. We also took water samples and tested the salinity level and the pH balance at different points of the river Nile.

In our free time we looked around antiquities museums and learnt about Nubian history and heritage, we also saw an evening sound and light show on Philae Island a narrated journey through the temple to discover the legends of the ancient Egyptian Gods and Goddesses.

It was exciting to travel around the country, we got to experience the capital's metro system, drive through desert tracks and spend a night on a sleeper train complete with meals and an Orient express style carriage.

Our tour guide was very knowledgeable and bought his own experiences into discussions, hearing about his account of the 2011 revolution was most definitely a high light, it was so valuable to learn from and complemented our lecturer's knowledge also.

Experiencing an alternative way and pace of life and culture was a significant part of the trip. By interacting with the locals, sharing stories and spending time with people we were able to gain an insight into different lifestyles. I do genuinely miss the Egyptian humour and haggling in the bazaars.

Participating in this field trip abroad was an inspiring and incredible experience!

First year students participate in a Sussex-based field weekend, learning about and exploring Brighton and the surrounding landscape. Excursions may visit the Sussex coastline, the Ashdown Forest or follow the Greenwich Meridian.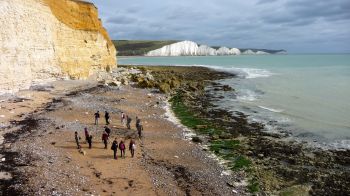 Taking the learning process out of the lecture theatre and into the field not only provides students with essential practical experience of witnessing first-hand the interaction of people and landscape on a range of scales, but it also helps to develop students' skills in teamwork and independent thought. Equally important, the field classes serve to illustrate geographical ideas and methods introduced during lectures, seminars and tutorials.