Research reveals how centromeres maintain integrity when damaged, leading to important clinical insights
By: Jessica Gowers
Last updated: Thursday, 9 December 2021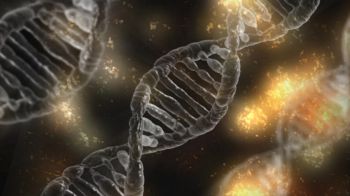 A new study has improved understanding of how centromeres, a genomic region key to cell division, maintain integrity when DNA is damaged. The research, published in Nature, has important clinical implications for a number of conditions including birth defects, premature ageing and cancer.
Cells are subjected to tens of thousands of DNA lesions every day, creating damaged sites. Rapid DNA repair before cell replication is essential to avoid harmful, permanent mutations.
Centromeres are the genomic region which attach chromosomes to spindle microtubules during cell division, allowing chromosome segregation to the opposite daughter cells. Incorrect DNA repair at these important sites can disrupt this process and lead to aneuploidy (missing or extra chromosomes) and genetic rearrangements; hallmarks of many diseases, including cancer.
Although centromeres are intrinsically fragile and represent hotspots for aneuploidy and genetic rearrangements, little was previously known about how their integrity in response to DNA damage is preserved.
New research involving scientists at the School of Life Sciences' Genome Damage and Stability Centre (GDSC) in collaboration with a number of other institutions, has now shed light on how centromeres maintain their integrity when DNA is damaged, via a mechanism called Homology Directed Repair (HDR).
Evi Soutoglou, Professor of Genome Stability at the GDSC was part of the international research team. She said: "Using the gene editing technology CRISPR/Cas9 to specifically generate DNA damage at the centromeres of mammalian cells, we discovered that in contrast to any other DNA lesions occurring in the genome, centromeric DNA lesions can be repaired by Homology Directed Repair (HDR) throughout the cell cycle.
"We knew that HDR is largely supressed in the G1 phase of the cell cycle (the time between mitosis division and DNA replication). This is due to the lack of sister chromatid which are used for copying the genetic information to repair in an error free manner. However, this work reveals for the first time that there are positions on the genome where HDR selectively occurs in G1."
The study provides new levels of details of this complex process of DNA repair within the cell cycle. Mechanistically, the researchers reveal that a unique centromere-specific histone (a type of basic protein) called CENP-A, along with its chaperone HJURP, allow a succession of events leading to the licensing of HDR in the G1 phase of cell division.
Professor Soutoglou added: "Although activation of HDR in G1 can seem harmful within centromeric repeats, we provide evidence that it inhibits the formation of deleterious chromosomal translocations. Our results are consistent with a model in which licensing HDR at centromeric breaks throughout the cell cycle prevents the activation of alternative mutagenic DNA repair pathways to preserve centromeric integrity. In the future, this might provide potential new therapeutic targets for cancers and other genetic conditions."
'Activation of homologous recombination in G1 preserves centromeric integrity' is published in Nature.